If you watch 'The Goldbergs' tv show, you know that Beverly is portrayed as a good cook and one of her favorite dishes is shrimp parm. As such, Beverly has compiled almost all her favorite recipes in a cookbook. You may also want to try some of her best recipes, especially the Beverly Goldberg shrimp parm recipe. Here is the recipe.
Bevy's Juicy Shrimp Parm Recipe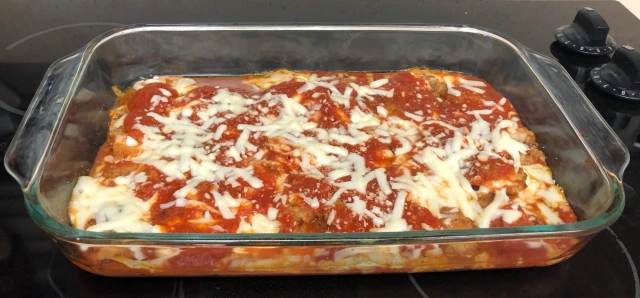 Using this shrimp parm goldbergs recipe, you'll prepare juicy and tasty shrimp parm at home. The recipe is easy and the ingredients are readily available. All the best!
Prep Time: 5 minutes
Cook Time: 20 minutes
Total Time: 25 minutes
Servings: 2-3 servings
Ingredients
1 cup skim milk
1 cup of flour
Vegetable oil
1 lb of Gulf Shrimp (pealed and cleaned)
1 cup of seasoned breadcrumbs
1-2 tsp garlic powder
1 jar spaghetti sauce
¼ tsp salt
¼ tsp pepper
½ cup parmesan cheese
2 cups mozzarella cheese
Procedure
Preheat your oven to 350 degrees F and spray nonstick cooking spray or oil to the pan (9x13inch)
Add milk and shrimp in a bowl and set aside.
Heat up vegetable oil in skillet to medium high.
As the oil is heating up, combine breadcrumbs, flour, garlic powder, pepper and salt. Use a ziplock bag to combine them thoroughly. Remove the shrimp from the milk, shake off excess milk and put in the ziplock bag. Shake until the shrimp is coated with the breadcrumbs. Remove and shake off the excess breadcrumbs.
Place the shrimp is the hot oil and cook until golden in color. Remove from oil and place in paper towel to drain off excess oil.
On to the prepared pan, pour half of the sauce and place the fried shrimp on top. Sprinkle ½ of the mozzarella cheese on top of the shrimp, pour the remaining sauce on top. Sprinkle the remaining mozzarella on top of the sauce. Bake for 15 minutes.
Once done, plate and serve with parmesan cheese.
Did Beverly Goldberg Really Make Shrimp Parm?
Yes, shrimp parm is among the best dishes Beverly used to prepare for the family. And she has included the recipe in the Beverly Goldberg cookbook. Just check her cookbook because its real and you can learn how to make a wide range of dishes from it.
Final Words
If you have been thinking that you can't prepare tasty shrimp parm at home, you need to think again. The above Beverly Goldberg shrimp parm recipe will help you prepare the meal. Try the recipe and you'll not be disappointed.