If you want to live a healthy lifestyle, you should always take nutritious meals. Many people take healthier breakfast as well as lunch. But when it comes to dinner, they just take anything because they feel tired after a long day. You should have a plan for your dinner. Dinner is equally important just like the breakfast. A healthy dinner comes with a dozen benefits to your health and overall wellbeing. Here are healthy dinner recipes you should try. 
1. Easy Fried Rice Recipe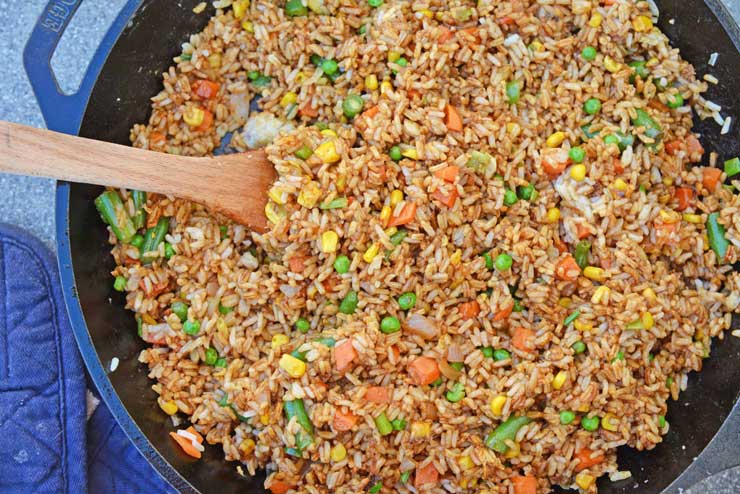 A fried rice like the one you get at your favorite restaurant. Easy to prepare.
Prep Time: 10 minutes
Cook Time: 30 minutes
Total Time: 40 minutes
Servings: 6
Ingredients
2 cups of white rice (enriched)
2/3 cup baby carrots (chopped)
2 eggs
2 tbsp vegetable oil
½ cup of frozen green peas
4 cups of water
2 tbsp sesame oil
Salt, to taste
Instructions
Clean the rice, and put in saucepan. Add 4 cups of water. Cook for 20 minutes until the rice is well cooked(soft).
In another saucepan, boil sliced carrots for 5 minutes. Add the peas in boiled water, and drain. Set the carrots and peas aside.
Heat a larger pot over high heat. Add vegetable oil, and then stir in peas and carrots. After 1 minute, crack in eggs and quickly stir to scramble the eggs with the vegies. After a minute of stirring, add rice and salt, and stir. Cook for 3-4 minutes. Then drizzle with sesame oil and toss.
Remove and serve.
2. Easy Stew Beef and Rice Recipes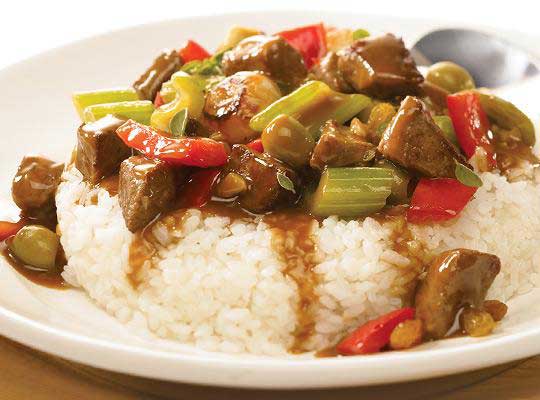 Once in a while, you should treat yourself with a delicious homemade dinner. Try this recipe.
Prep Time: 15 minutes
Cook Time: 1 hour 10 minutes
Total Time: 1 hour 25 minutes
Servings: 4
Ingredients
4 cups of cooked rice
2 pounds of Beef chunks – cut into 2-inch pieces
1 large onion – sliced or diced
1 large pepper
4 grated garlic cloves
1 tsp ground black pepper
1 tsp salt
2 tsp dried oregano
5 cups of beef stock
1 bay leaf
Instructions
Heat a large pot over medium heat and add vegetable oil. After a minute, add beef. Cook until when the chunks turn light brown on all sides. Add onion and pepper and cook for additional 5 minutes while stirring occasionally. Add garlic, dried oregano, black pepper and salt and stir. Cook for 3 minutes while stirring occasionally.
Add beef stock and bay leaf and simmer for 45 minutes until beef is tender. Check if the chunks are tender. If you want to add some stew, add warm water and salt to taste. Cook for 5 minutes.
Remove and serve over cooked rice.
Note
Cooking time varies with the size of the chunks, and the amount cooked. Some beefs will be tender in 30 minutes while other will take even 1 ½ hours.
3. Chicken Fried Rice Recipe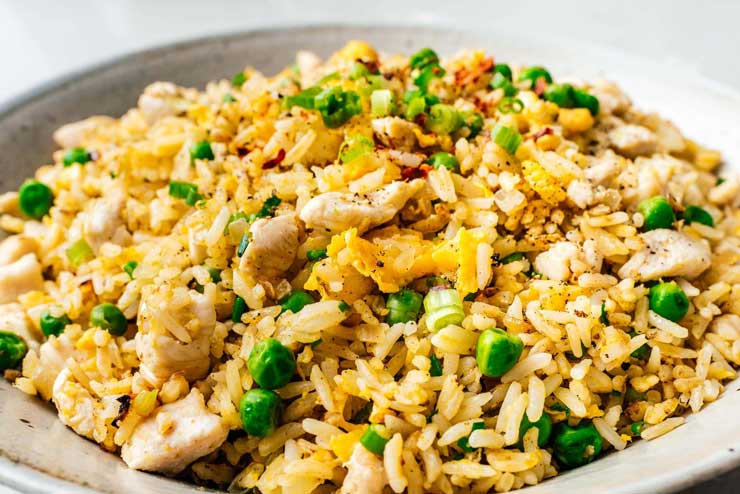 Better than what you get at the china restaurant. Easy to make and delicious too.
Prep Time: 5 minutes
Cook Time: 15 minutes
Total Time: 20 minutes
Servings: 4
Ingredients
1-pound boneless chicken breast (skinless) diced in small pieces (1/2 inch)
4 cups of cooked rice
2 tbsp vegetable oil
2 tbsp sesame oil
1 cup of diced carrots
½ cup of frozen peas
3 garlic cloves (grated or minced)
3 green onions – trimmed and sliced
Salt and pepper, to taste
Instructions
To a large nonstick pot, add the oils and chicken pieces, and cook for 7 minutes over medium heat. Stir occasionally to ensure all sides cook evenly. Once the chicken is soft and tender, remove the pieces and place in a plate, and set aside.
Add the onions, carrots, and peas to the pot, and cook for 3 minutes or until they begin to soften. Remember to stir occasionally. Add garlic and cook for a minute while stirring.
Add chicken and rice. Add salt and pepper, stir to mix. Cook for 2-3 minutes.
Remove and serve warm.
4. Easy Fried Fish Fillets Recipe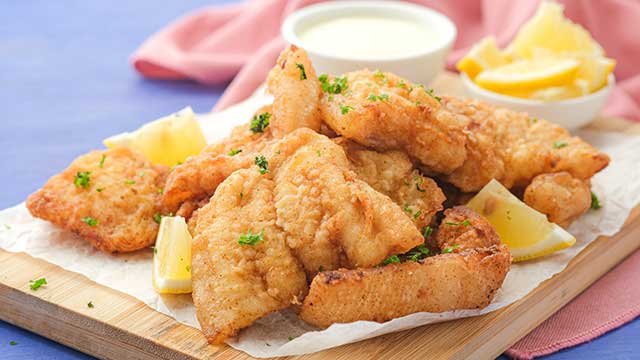 A well fried fish is a good treat, especially on a Friday night. Use this recipe to prepare it at home.
Prep Time: 5 minutes
Cook Time:25 minutes
Total Time: 30 minutes
Servings: 2
Ingredients
1 pond of fish (4 fillets)
½ cup all-purpose flour
¼ tsp paprika
2 cups of vegetable oil
Salt and pepper, to taste
Instructions
In a bowl, mix salt, paprika, pepper, and flour.
Dip the fish fillets in the mixture. Make sure all sides are coated by the seasoning and shake off the excess.
Pour the oil into a skillet, heat to 375F.
Dip 2 fillets in the hot oil and cook for 6-7 minutes on each side. Remove once crispy and golden brown.
Remove the cooked fillets, and place them on a cooling rack to drain excess oil. Cook the remaining fillets.
Serve when hot with a sauce of your choice.
Final Words
You should treat yourself to a nice dinner once in a while. Buying dinner at a restaurant is expensive and at times, you may not get what you desire. Therefore, you should learn to prepare a tasty dinner at home. The above recipes will help you make delicious dinner you can enjoy with your family.