You are used to roasting your pork loin, and trying a new recipe is a good thing. You can cook the meal in a crock pot or slow cooker. The resulting dish will be juicy and tasty. But to get such results, you need to have a good recipe and gather all the ingredients required. To help you out, here is an easy pork loin crock pot recipe you can try.
Pork Loin Crock Pot Recipe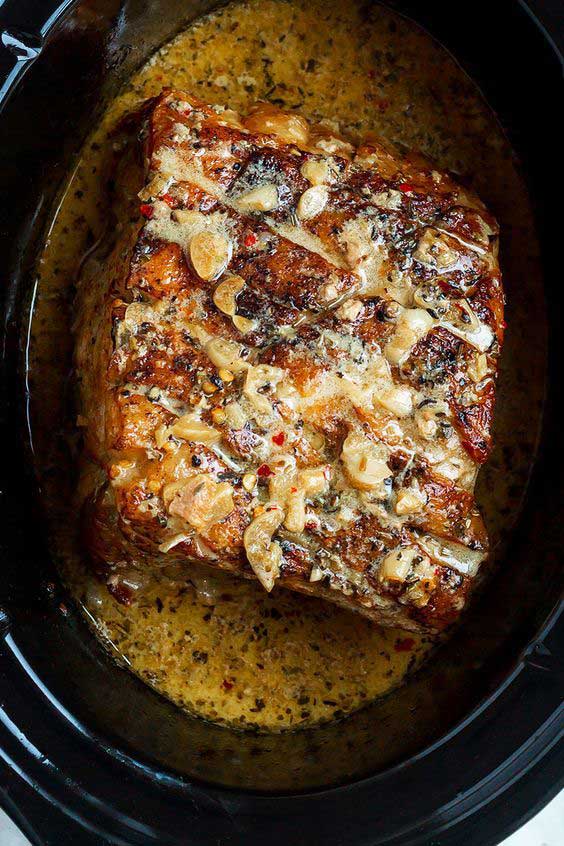 This is one of the simplest pork loin crop pot recipes you can try with readily available ingredients, and the results will make you smile. Check it out.
Prep Time: 10 minutes
Cook Time: 3.5 to 4 hours
Servings: 4
Ingredients
2lbs port loin
2 tablespoons vegetable oil
1 tsp paprika
1 tsp garlic powder
1tsp onion powder
¼ tsp cayenne pepper
Salt and pepper to taste
To make sauce
½ cup honey
¼ cup unsalted butter
¼ cup cider vinegar
4 cloves of garlic (minced)
½ tsp salt
¼ tsp pepper
3 tsp cornstarch mixed with 2-3 tsp water
Procedure
Mix paprika, garlic powder, onion powder, pepper, cayenne pepper and salt in a shallow bowl.
Rub the pork loin with enough vegetable oil, and then sprinkle the spice mixture all over the pork.
Heat some oil in a skillet over medium heat. Place the pork loin in the skillet and cook until brown.
Remove the pork and place it in the crock pot.
Wipe the skillet and add butter to melt. Add garlic, cook until golden. Add the remaining sauce ingredients, combine thoroughly and simmer for 30 seconds to 1 minute.
Pour the sauce over the pork loin and cover the crock pot. Cook for 3.5 to 4 hours on low heat.
Once done, remove the pock and place it on a large plate or serving platter. Let it rest for around 10 minutes before slicing. Enjoy!
This pork loin crock pot recipe easy will help you make a juicy pork loin you'll never forget. Remember to gather all the ingredients required and take your time when preparing this dish to ensure it comes out tasty and juicy.
Reference: https://www.recipetineats.com/slow-cooker-pork-loin-roast/