For a healthy lifestyle, you need to take healthy and well-prepared dishes. An air fryer is the cooking appliance you should use to make most of your meals. The appliance uses little or no oil when cooking food. In addition, it can cook almost everything in your diet plan ranging from healthy veggies to meats. To help you make healthy meals in your air fryer, here are 3 best Cuisinart air fryer recipes you need to try.
Cuisinart Air Fryer Baked Potatoes Recipe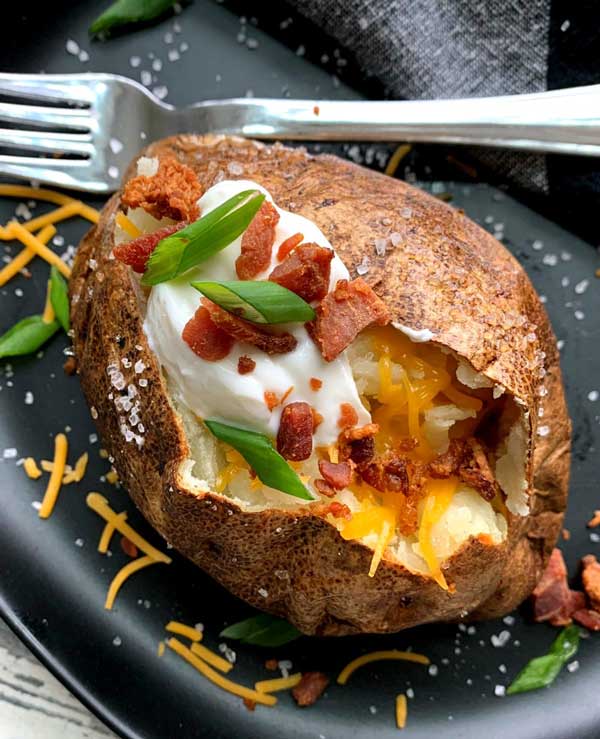 Let your air fryer make the best baked potatoes for you. Nice and fluffy inside, and crispy crust!
Prep Time: 5 minutes
Cook Time: 34 minutes
Total Time: 39 minutes
Servings: 4 people
Estimated Cost: $4
Ingredients
4 medium sized russet potatoes
1 tsp vegetable oil
½ tsp kosher salt
½ tsp black pepper
¼ tsp garlic powder
Instructions
Scrub the potatoes until they are clean.
Spray or brush the potatoes with vegetable oil. Cover all round.
Then mix the seasoning, and massage the mixture into the potatoes.
Preheat your Cuisinart air fryer to 400 degrees F, and place the potatoes in the air fryer basket. Cook for 20 minutes. Stop and flip the potatoes. Cook for additional 12 minutes at 375 degrees F.
When time is up, remove the potatoes and check if they are done. If not done, bake for additional 3 minutes.
Serve with your steak or any other dish.
Recipe Notes:
Don't overcrowd the air fryer basket to allow perfect circulation the hot air around the potatoes to cook them evenly.
Cook time will depend on the type of air fryer and size of your potatoes.
Air Fryer Chicken Thighs Recipe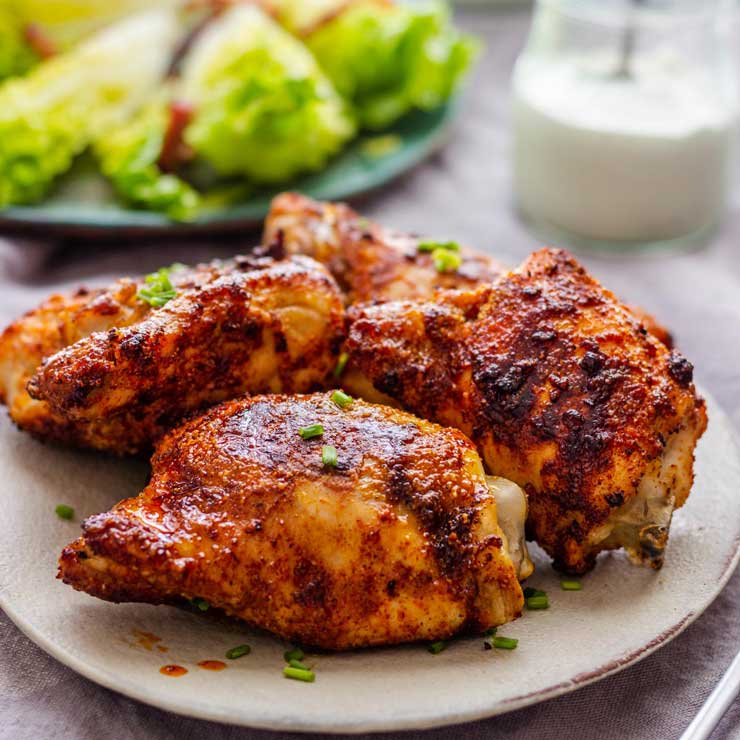 To make juicy, tender chicken thighs, you need to use one of the best Cuisinart air fryer toaster oven recipes. Try this one!
Prep Time: 5 minutes
Cook Time: 16 minutes
Total Time: 21 minutes
Servings: 4 people
Estimated Cost: $8
Ingredients
4 bone-in chicken thighs (skinless)
½ teaspoon salt, to taste
¼ teaspoon black pepper
2 teaspoons of paprika
½ teaspoon of ginger
1 teaspoon of garlic powder
2 tablespoons olive oil
Directions
Place the chicken thighs on a cutting board or large plate. If have too much moisture or water, pat dry with paper towels.
Mix paprika, garlic powder, ginger, salt, and black pepper in a small bowl. Rub this mixture onto both sides of the chicken thighs.
Preheat the air fryer to 400 degrees F.
Place the thighs on a preheated air fryer. Sprinkle olive oil over the thighs, and cook for 9 minutes. Turn the thighs and cook for additional 7 minutes. When time is up, use a meat thermometer to check the internal temperature of the thighs. If the temperature is 165 degrees F or above, the thighs are ready. If temperature is below that, cook for additional minutes until the temperature reaches 165F.
Remove and serve.
Recipe Notes:
If your air fryer can't handle all the thighs at a time, cook in batches.
Cooking time can vary depending on your cooking temperature and size of your chicken thighs.
To confirm if the thighs are ready, use a meat thermometer to check the internal temperature of the thickest piece. Should read 165 degrees F.
Read also: Healthy Dash Air Fryer Recipes
Air Fryer Brussel Sprouts and Broccoli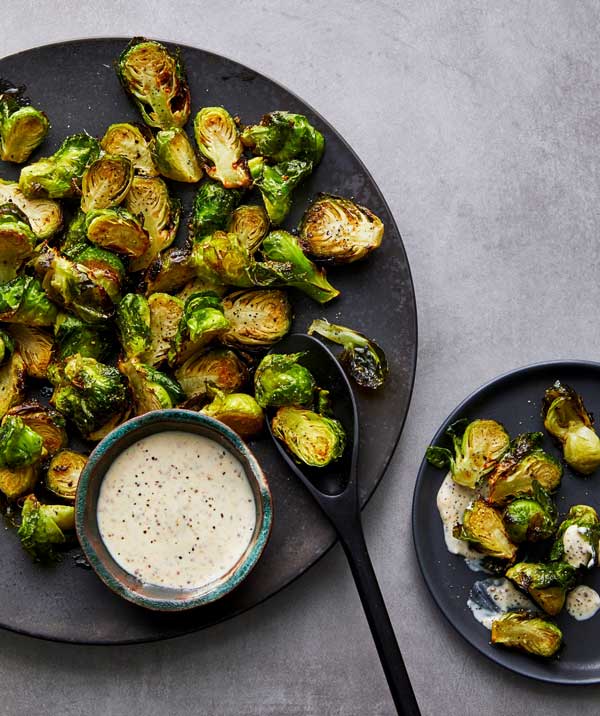 A healthy veggie mixture to serve with steak, grilled chicken or salmon. Easy to make in your air fryer.
Prep Time: 5 minutes
Cook Time: 10 minutes
Total Time: 15 minutes
Servings: 1 person
Estimated Cost: $4
Ingredients
Brussel sprouts ends removed (90g)
Broccoli florets (90g)
2 teaspoons olive oil
¼ teaspoon pepper
½ tablespoon minced garlic
Salt, to taste
Directions
Cut the Brussel sprouts and broccoli florets in halves, and put them in a bowl. Add the other ingredients and mix thoroughly, ensuring the veggies have been coated by the oil and the seasonings.
Arranged the veggies in a single layer in the frying basket.
Cook at 350 degrees F, for 10 minutes. Flip or stir the mixture at 5 minutes. This will ensure your veggies cook evenly.
When done, serve with your main dish like grilled steak or chicken.
Final Words
An air fryer can help you cook a wide range of healthy, delicious meals. Use these Cuisinart air fryer recipes to make healthier chicken thighs, veggies and baked potatoes. Such meals, will help you live a healthier lifestyle.