You can make a wide range of meals using the air fryer. Power Air Fryer XL is one of the best air fryers you can use to make not only delicious, but also healthier meals. However, you need the right recipes to guide you for best results. Here are Power Air Fryer XL recipes that can help you make healthier meals in just a few minutes. Read on for all the details.
Air Fryer Frozen French Fries Recipe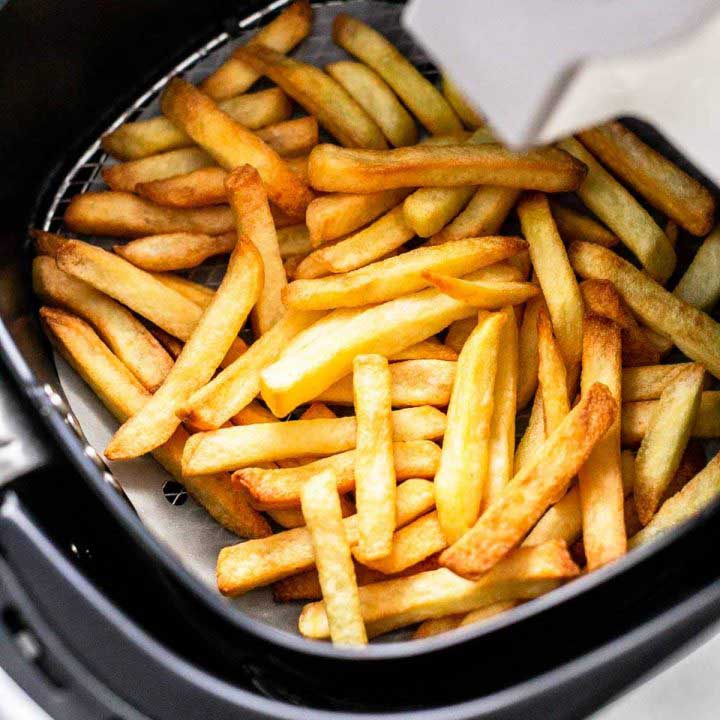 Want an easy snack that is so much better than fast food? Try air fryer frozen French fries –delicious, and crispy!
Prep Time: 2 minutes
Cook Time: 20 minutes
Total Time: 22 minutes
Ingredients
1 bag of frozen French fries
Olive oil
Salt and pepper
Directions
Put the frozen fries on a plate. Spray with olive oil, then sprinkle salt and pepper over the fries, as you desire.
Preheat the air fryer for 5 minutes to 400 degrees Fahrenheit.
Put the oiled and seasoned frozen fries to the air fryer basket. Cook for 20 minutes. You should shake the frying basket halfway. This ensures that the fries are cooked evenly and crisp up easily.
Check for doneness when the time is up. The fries should be tender and crispy when ready. Use your own judgement here. If not done, cook for additional five minutes.
When done the way you like, remove and serve.
Notes:
Do not thaw – cook frozen
Shake several times and don't overload the frying basket.
Read also: NuWave Air Fryer Recipes
Air Fryer XL Whole Chicken Recipe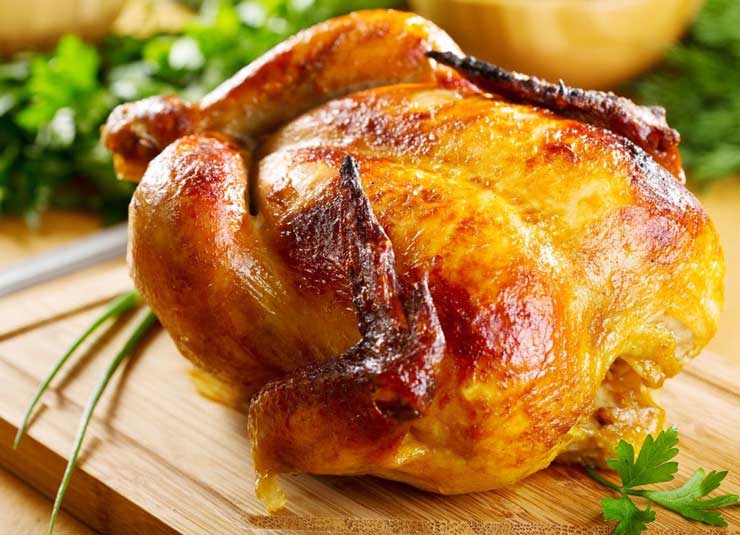 Get ready for a juicy chicken with crispy skin. With just a few ingredients, your whole chicken will be ready in less than 1 hour.
Prep Time: 5 minutes
Cook Time: 40 minutes
Total Time: 45 minutes
Course: Lunch, Dinner
Ingredients
1 Whole chicken (3.5lbs)
¼ freshly ground black pepper
Salt
Any other spice (dry rub) of your choice
Olive oil
Instructions
Pat dry the whole chicken with paper towel to remove water and excess moisture.
Preheat your power air fryer xl to 350 degrees.
When the air fryer is heating up, spray olive oil all over the chicken. Don't be too generous. Then rub or sprinkle pepper, salt or any other seasoning spice of your choice over the chicken, as you desire.
When preheating is done, put the whole chicken in the air fryer basket. Cook for 20 minutes, turn the chicken. Cook for additional 15 minutes, check progress and turn the chicken. Cook for another 10 minutes. At this time, use meat thermometer to confirm if the chicken is ready or not. The internal temperature of the thickest part of the chicken should be 165 degrees when done.
When done, remove and place the ready, crispy chicken on a large plate. Let it rest for 4 minutes before slicing.
Air Fryer Roasted Vegetables Recipe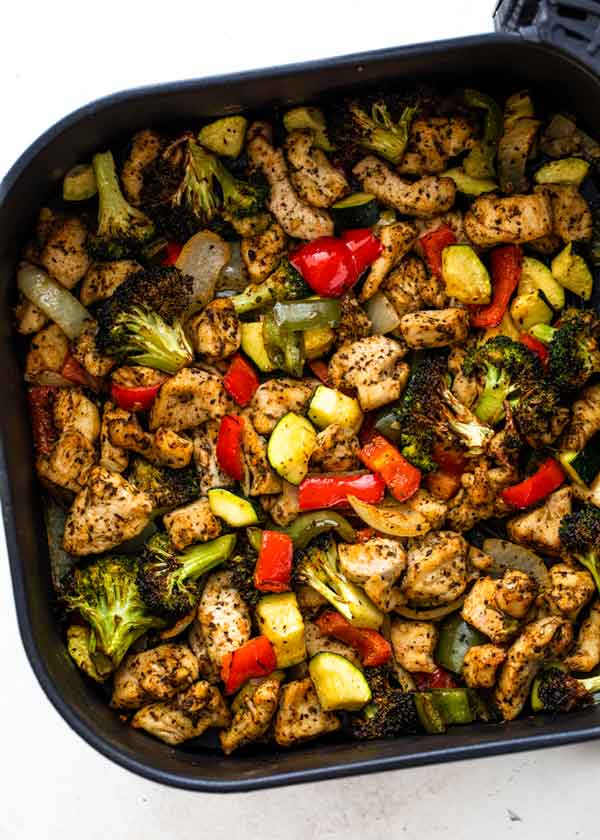 For a healthy lifestyle, you need nutritious and well-cooked veggies. For that reason, on our top healthy power xl air fryer recipes, we have this unique recipe that includes zucchini, mushrooms, cauliflower and more.
Prep Time: 15 minutes
Cook Time: 10 minutes
Total Times: 25 minutes
Ingredients
½ cup diced cauliflower
½ cup diced summer squash
½ cup of mushrooms
½ cup of diced asparagus
½ cup of diced zucchini
2 tablespoons of vegetable oil
¼ tsp salt
¼ tsp black pepper (ground)
Instructions
Add the diced vegetables in a large mixing bowl. Sprinkle with oil, salt, pepper and desired seasoning over the vegetables. Combine/toss to coat.
Preheat your air fryer XL to 360 degrees Fahrenheit for 3 minutes.
Arrange the vegetables in the air fryer basket. Don't overcrowd the basket, you can cook in batches if the basket can't handle the all veggies at once.
Roast the vegetables for 10 minutes. And stir after 5 minutes to ensure all the veggies are cooked evenly.
When time is up, remove and serve.
Final Words
With an air fryer, you can cook healthy and delicious meals for breakfast, lunch or dinner. The above power air fryer XL recipes will help you make healthier, tasty whole chicken, roasted veggies and air fryer frozen French fries. Try the recipes, and you will love the final meals.