People are moving to vegan diets due to health as well as weight related issues. However, it will depend on how you prepare your vegan meals to enjoy the benefits. You need to use your air fryer to prepare most of the vegan diets so that you can enjoy high levels of nutrients and avoid unhealthy fats. Here are vegan air fryer recipes you should use to make the meals.
Air Fryer Potato Chips Recipe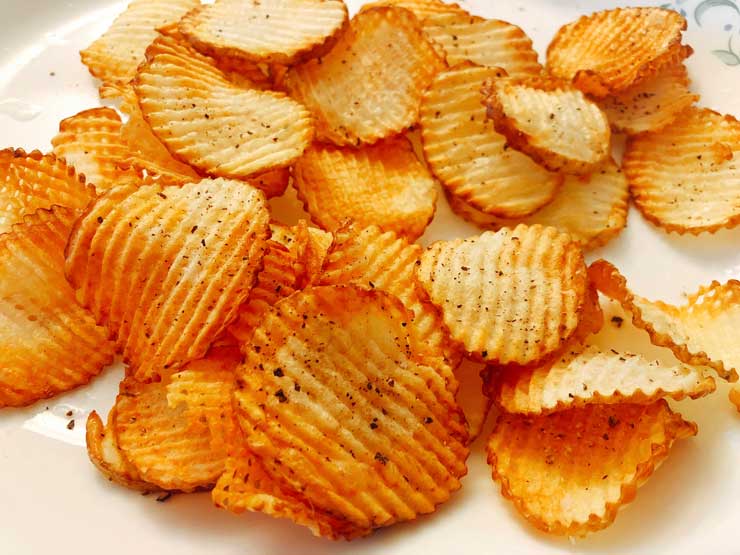 This is one of the main meals preferred by vegans. With this recipe, you will make tasty, healthier and crispy potato chips.
Prep Time: 5 minutes
Cook Time: 25 minutes
Total Time: 30 Minutes
Ingredients
3-4 medium sized potatoes
¼ tsp sea salt
Black pepper
Garlic powder
3 tbsp vegetable oil
Instructions
Peel your potatoes and slice them into thin pieces. Wash and soak the pieces in water for at least 30 minutes. This dissolves excess starch to allow the chips to become crispy when done.
Pat dry the potato chips with paper towels, and put them on a bowl. Spray the chips with vegetable oil.
Mix garlic powder, pepper, salt or any other spice of your choice on a separate bowl. Sprinkle the mixture over the oiled potato chips.
Put the chips on the air fryer basket. Don't overload the fryer basket to allow free circulation of hot air for even cooking.
Set the temperature to 400F and timer to 25 minutes, and start cooking. During the cooking process, pause and shake the chips at least thrice. This allows all the chips to cook evenly.
When the time is up, check for doneness. If done and crispy remove and serve. If not, cook for addition minutes until done.
Air Fryer Sweet Potato Fries Recipe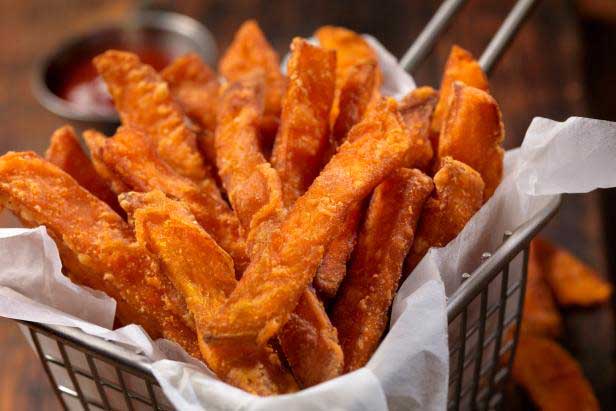 No vegan misses sweet potatoes in their diet plan. Here is a creative way to prepare your sweet potatoes using your air fryer.
Prep Time: 10 minutes
Cook Time: 20 minutes
Total Time: 30 minutes
Ingredients
1-2 sweet potatoes
1 tbsp vegetable oil
Salt
Instructions
Clean your sweet potatoes, and cut lengthwise into thin plants. Then cut these planks several other times until you get more wedges. Soak the wedges/pieces in water for 30-60 minutes. It is advisable to cut and soak this pieces early enough if you have a plan to cook them in the air fryer, it saves time.
Pat dry the sweet potato chips with paper towels, and put them in a large bowl. Apply vegetable oil and toss to coat. Then sprinkle some salt over the pieces and toss to coat.
Preheat the air fryer to 390 degrees F for 5 minutes. Put the sweet potatoes chips in the air fryer basket, cook for 20 minutes at 390 degrees. Shake or turn the pieces every few minutes to ensure all the chips are evenly cooked.
When done, remove the chips, and serve when hot.
Air Fryer Buttermilk Mushroom Recipe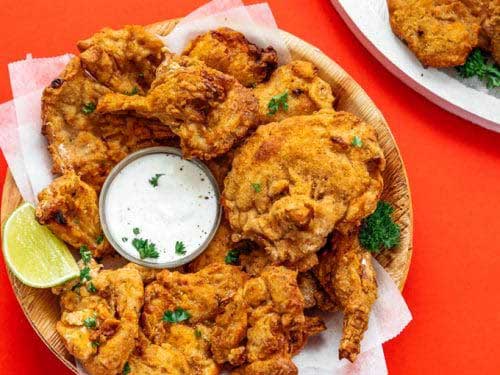 You want a meal that tastes just like fried chicken? This is the recipe you need to use.
Prep Time: 10 minutes
Cook Time: 15 minutes
Total Time: 25 minutes
Ingredients
2 cups of oyster mushrooms
1 cup buttermilk (vegan substitute an option)
1.5 cups all-purpose flour
Seasoning – garlic powder, onion powder, smoked paprika, pepper and cumin
Salt
1 tbsp vegetable oil
Instructions
Clean the mushrooms, and dry them. Toss together with buttermilk in a bowl.
Mix garlic powder, onion powder, paprika, flour, cumin, salt and pepper on a bowl. Coat the mushrooms with this mixture and shake off excess mixture.
Preheat the air fryer for 3 minutes to 375 degrees F. Then place the breaded mushrooms on the air fryer basket and space them well. Cook for 15 minutes. At 5 minutes, spray vegetable oil all over the mushrooms, and turn them. At 10 minutes, turn the mushrooms to allow them to cook evenly. When the mushrooms turn golden brown and crispy, they are done. Remove them, serve and enjoy.
Final Words
If you are a vegan, you need to try these vegan air fryer recipes. The recipes will make delicious, and most importantly, healthier meals. Therefore, try the recipes, and you will realize what you have been missing in your diet plan.