Cooking chicken breasts the same way every time can be boring. You need to look for other creative ways to make juicy and tasty chicken breasts in less time. And that is where the instant pot comes in. You can use this cooking appliance to cook a wide range of meals, including chicken. However, you need to have the best instant pot chicken breast recipes to follow. Here is one of the best recipes you can try.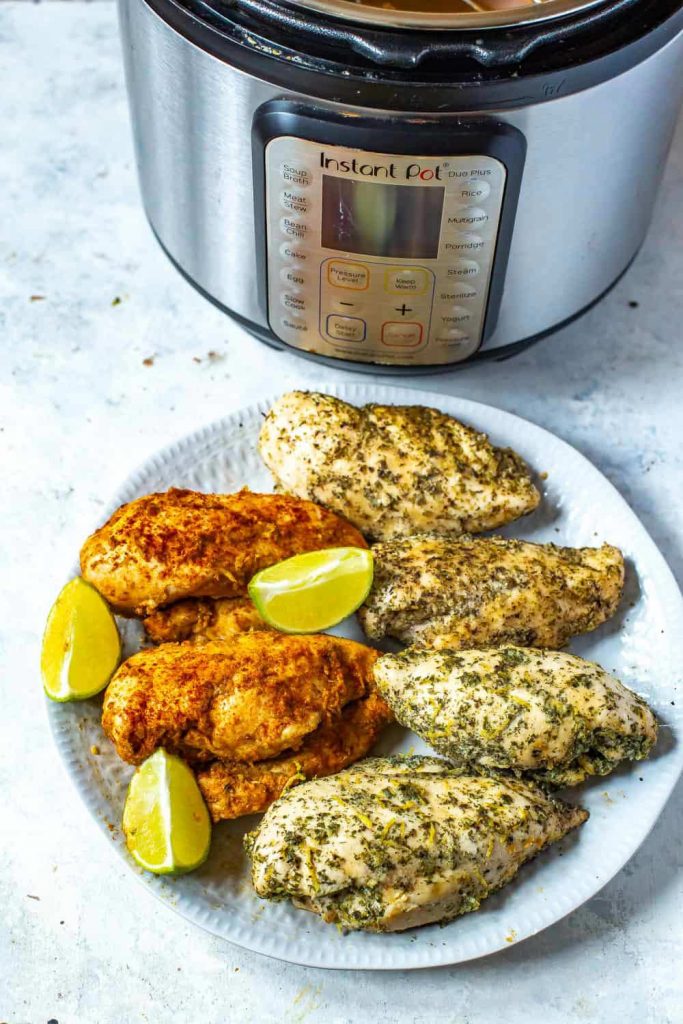 Instant Pot Chicken Breast Recipe (Fresh or Frozen)
One of the easiest meals you can ever make at home. Juicy and tasty chicken breast requiring few and available ingredients.
Prep Time: 5 minutes
Cook Time: 25 minutes (including time for instant pot to come to pressure)
Total Time: 30 minutes
Ingredients
3 lbs chicken breasts (boneless)
1 cup of water
1 teaspoon salt
2 teaspoons garlic powder
Black pepper (ground) to taste
Preparation and Cooking
Add water to your instant pot and place the trivet in position.
Place the chicken breast in one layer. Sprinkle salt, pepper and garlic over the pieces, and toss to coat.
Close your instant pot and set the pressure vent to Sealing. Then press 'Pressure Cook on High' for 10 minutes. If your chicken breasts are over 2-inches thick or frozen, cook for 15 minutes. Once you do that, the display will say 'ON', and it will take around 10 minutes for the instant pot to come to pressure, and start the time countdown.
The instant pot will beep and switch off once the time lapses. Let it stay for at least 5 minutes and turn the sealing valve to quick release pressure.
Open the instant pot, and get your juicy chicken breasts. Remember to get the soup, it's very delicious. Serve with rice and veggies, or any other side dish of your choice.
Other Healthy Instant Pot Recipes
There are other healthy chicken breast recipes you can try in your instant pot. One of the most popular recipes involves cooking chicken and rice. You just need to gather the ingredients and the procedure is almost the same. You can as well try the Honey Garlic Instant Pot Chicken Breasts, Instant Pot Shredded Chicken Tacos, among other recipes to make delicious meals.
Healthy Chicken Crock Pot Recipes
If you want to prepare your meal in the morning and when you get home in the evening you find it's ready, you need to use a crock pot. The crock pot slowly heats your food at a constant temperature, cooking it slowly which is just the opposite when you use an instant pot.
You can use the crock pot to make chicken soups, chicken breasts, among other dishes. The end product is a juicy, soft and delicious chicken. You can try the crock pot sweet and sour chicken, crock pot Teriyaki chicken, pineapple chicken, crock pot chicken and rice soup, among other healthy chicken crock pot recipes.
Why are my instant pot chicken breasts tough?
One of the reasons is that your chicken breast was not ready and it required more time in the instant pot. It's advisable to cook for additional minutes and let the pressure to release naturally instead of quick release.
Can I stack my chicken breast in the instant pot?
Yes, you can stack chicken breasts in the instant pot. But ensure the pieces are boneless and well-seasoned. If using frozen pieces, makes sure they are separated.
Final Words
With the above information about instant pot chicken breast recipes and more, you can now make tasty and juicy chicken breasts using your instant pot in minutes. Try the recipe and consider the other information, and you will have an easy time when cooking.