The air fryer is the go to cooking appliance you need to prepare healthier as well as delicious meals. The appliance cooks food using circulating hot air, and you can use it to cook almost everything ranging from vegetables to meats. But you need to use the right air fryer for best results. Chefman Air Fryer is a perfect pick, and here are Chefman air fryer recipes you must try. Read on for all the details.
Air Fryer French Fries Recipe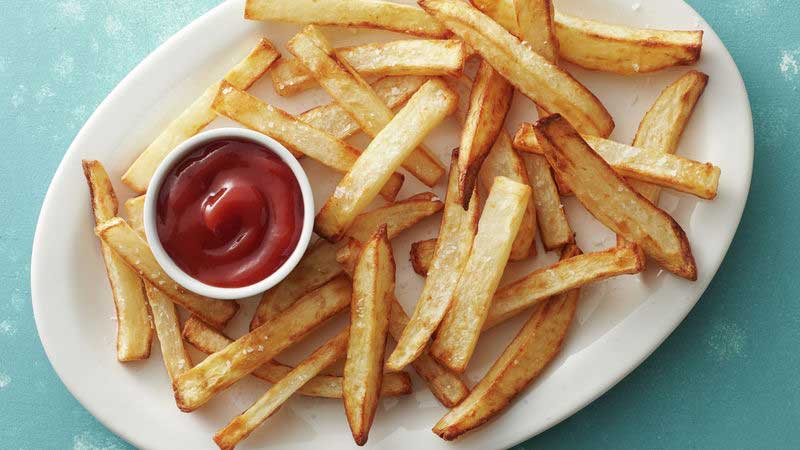 The air fryer French fries made just the way you like – delicious, crispy and crunchy!
Prep Time: 10 minutes
Soaking Time: 30 minutes
Cook Time: 20 minutes
Total Time: 1 hour
Ingredients
3 large potatoes
3 tbsp olive oil
Salt and ground pepper, to taste
Instructions
Peel the potatoes, and using a mandoline, slice them into small slices. Clean them.
Soak the fries in water for 30 minutes. This helps remove excess starch to ensure the fries crisp up easily in the air fryer.
Preheat your Chefman Air Fryer to 375 degrees for 3 minutes.
After the 30 minutes of soaking, remove the fries from water and pat dry with paper towels.
Sprinkle olive oil to the fries and toss to coat. Then add salt and pepper, and toss again.
Put the fries in the air fryer basket. Don't overload the basket to allow the fries to cook evenly. Cook for 20 minutes at 400 degrees. During the cooking process make sure you pause and shake the basket, at least twice – this allows the fries to cook evenly.
When time is up, check for doneness. If not done the way you like, cook for additional 5 minutes.
Serve when hot and enjoy!
Read also: Cosori Air Fryer recipes
Air fryer Chicken Breast Recipe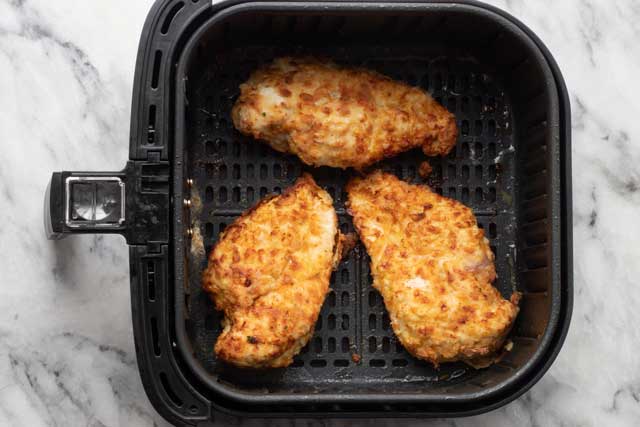 In your meal plan, chicken must be on the list. Here is how you make a tasty, tender chicken in your air fryer.
Prep Time: 10 minutes
Cook Time: 20 minutes
Total Times: 30 minutes
Ingredients
2 boneless skinless chicken breasts
3 tablespoons of vegetable oil
¼ teaspoon salt
¼ teaspoon freshly ground black pepper
Directions
Pat dry your chicken breasts with a paper towel. And place them in a plate or bowl.
Preheat your air fryer to 375 degrees for 5 minutes.
Brush the chicken breast with the vegetable oil. Coat both sides.
Sprinkle salt and freshly ground black pepper on both sides of the chicken breasts.
Put the chicken breasts in the air fryer basket, and put it back into the fryer unit. Set the cooking temperature at 375 degrees, time; 20 minutes. Press 'start' button to start cooking.
At 10 minutes, pause the cooking to flip the chicken breasts. You can sprinkle some vegetable oil over the pieces if they look too dry. Cook for the remaining 10 minutes until the coating turns golden, and internal temperature of the pieces reads 165 degrees F or more. Use the instant read thermometer to confirm.
When done, remove the pieces, and place them on a plate to rest for a few minutes before serving.
Air fryer Sweet Potato Fries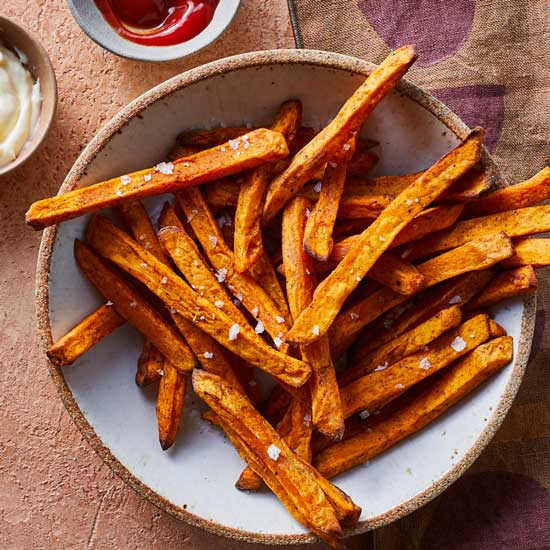 On the list of the best Chefman air fryer oven recipes, you will find this unique sweet potato fries recipe. Simple to make, amazing results.
Prep Time: 3 minutes
Cook Time: 20 minutes
Total Times: 23 minutes
Ingredients
One large sweet potatoes (16-18 ounces)
Salt, to taste
¼ tsp paprika
¼ tsp black pepper (freshly ground)
2 tsp olive oil
Directions
Clean and slice the sweet potato into small sticks. Try to make the size consistent.
Put the slices in a mixing bowl, then sprinkle olive oil, salt, paprika and pepper, toss to coat.
Transfer the slices to the air fryer basket. Cook for 20 minutes at 380 degrees F, and make sure you shake the cooking basket several times during the cooking process. This rearranges the fries so that they can all cook evenly and crisp up.
At 20 minutes, the fries will be tender and crispy. Remove and serve.
Final Words
You can cook a wide range of healthy meals using your air fryer. Use these Chefman air fryer recipes to make chicken breasts, French fries and sweet potato fries to perfection. Try these recipes and you will not be disappointed.