It's advisable to try new recipes once in a while. If you are used to the usual fried or roasted beef, it's now time to try rare beef made with in lime juice and salad. You may think that the beef tastes normal but surprisingly the beef comes with waves of textures and flavors thanks to the salad. Here is the bo tai chanh recipe to use to prepare the rare beef.
Rare Beef in Lime Juice Salad – Bo Tai Chanh Recipe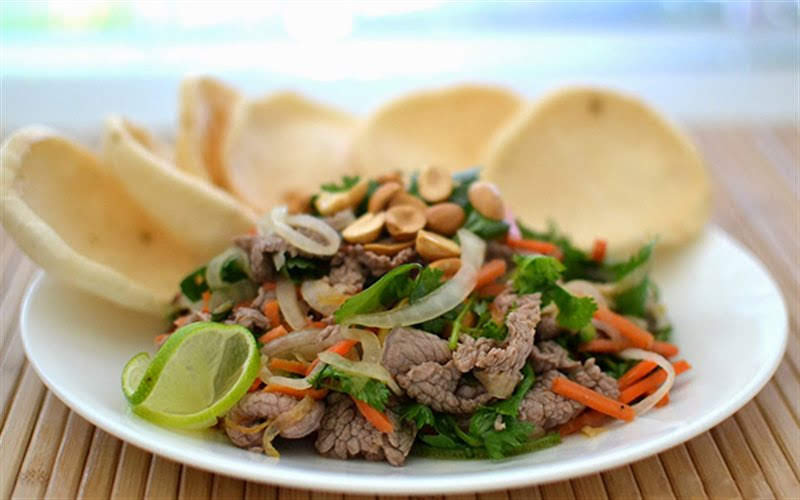 The thit bo tai chanh recipe will help you make a refreshing rare beef salad full of flavors.
Prep Time: 5 minutes
Cook Time: 5 minute
Additional: 30 minutes
Total Time: 40 minutes
Ingredients
1 lb lean beef (thinly sliced)
1 large red onion – sliced
½ tsp minced garlic
½ tsp black pepper
½ cup lime juice
½ tbsp sugar
2 tbsp fish sauce
1 tbsp vinegar
½ tsp salt
½ tsp beef powder
1 tbsp fried garlic
Vietnamese coriander (chopped)
2 tbsp vegetable oil
Procedure
In a mixing bowl, mix the sliced onion with sugar and vinegar, and set aside.
Season the beef slices with salt, minced garlic, beef powder, and black pepper. Set aside for approximately 10 minutes.
Heat the vegetable oil in a saucepan and add the seasoned beef. Cook for 1-2 minutes while stirring. Once done, drain the excess juices and oil.
Transfer your beef in a bowl and add in the lime juice. Let the beef sit for around 15 minutes. Once the 15 minutes are over, toss in the onion with vinegar, and add the fish sauce.
Garnish with fried garlic and Vietnamese coriander.
What is Bo Tai in English?
Bo Tai Chanh literally means 'rare beef lemon' in English. However, when you research more online or use online translators you will find different meanings such as ear, lemon, among others.
Final Words
You can also enjoy a rare beef salad at home. You just need to use the above bo tai chanh recipe, and you will make a juicy and flavorful rare meet salad. All the best!