Making tasty burgers in your air fryer is not that easy. You need to pick the right ingredients and cook at the right time and temperature. However, with some tips, you can make tasty and juicy hamburgers in minutes using your air fryer. You just need to use best air fryer hamburger recipes, and you are ready to go. Check out these recipes.
Air Fryer Stuffed Hamburger Recipe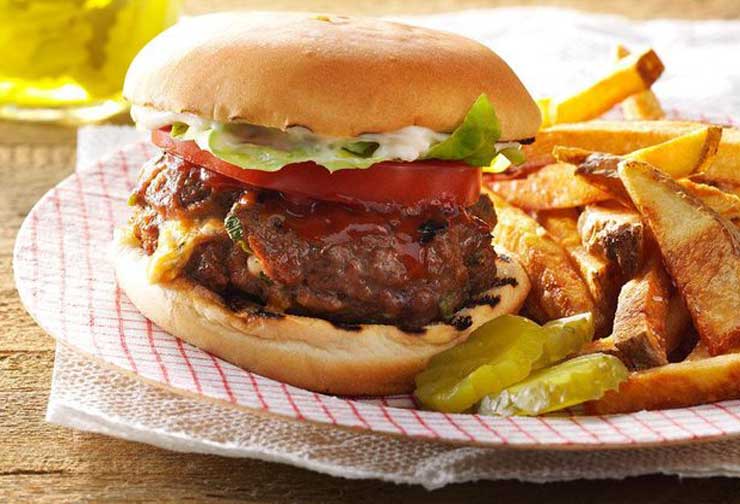 Quick & easy air fryer hamburger recipe. No doubt, this recipe is what you need to make juicy delicious hamburgers.
Prep Time: 7 minutes
Cook Time: 15 minutes
Total Time: 22 minutes
Servings: 4
Estimated Cost: $10 (buns not included)
Ingredients
700g minced beef
4 tsp Philadelphia soft cheese
½ small onion
4 slices cheese(cheddar)
1 teaspoon garlic powder
2 teaspoon thyme
40g white cheddar price
1 teaspoon salt
½ teaspoon pepper
2 tsp oregano
Instructions
Slice the onion and add to a large mixing bowl. Add all other burger patty ingredients, and mix thoroughly.
Cut into burger shapes using a biscuit cutter. Make sure 4 bottom patties and 4 top patties.
Place the patties on to a cutting board. Add slice of cheddar, grated cheddar and soft cheese. Then secure the patties by folding over the sliced cheddar. This avoids cheese from leaking out.
Place the top burger patty over it and seal the sides of the patties using your thumb.
Place the patties into the air fryer basket, set cooking temperature to 360F and timer to 15 minutes. Start cooking, pause at 8 minutes to turn the patties. At 14 minutes, load the hamburger up with a split bun. Cook for additional minute. Then serve.
Recipe Notes:
Seal the sides of your hamburger to avoid cheese leaking out.
Cooking time will depend on the thickness of your patties and cooking temperature. Adjust when need be.
Cook in batches, don't overload the frying basket.
Read also: Air Fryer Recipes Fish
Air Fryer Hamburger – Easy & Fast Recipe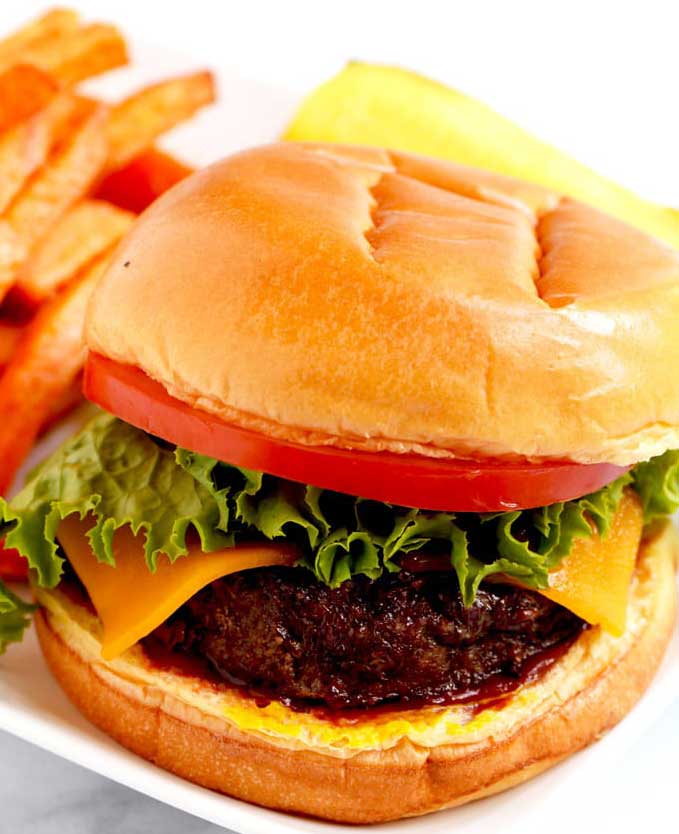 For juicy air fryer hamburgers, this easy and fast recipe is what you need. Check it out!
Prep Time: 5 Minutes
Cook Time:10 Minutes
Total Time: 15 minutes
Servings: 4
Estimated Cost: $8 (cost of buns not included)
Ingredients
1 lb ground beef (450g)
1 tsp salt
½ tsp ground black pepper
4 slices of cheese
4 burger buns
Non-stick cooking spray
Garnishes
Slices of tomatoes and onions
Mayonnaise
Lettuce
Instructions
Preheat your air fryer for 3 minutes at 350 degrees F.
Mix the ground beef with salt and black pepper in a mixing bowl. Make a perfect mixture.
Make four burger patties using the mixture.
Spray nonstick spray on the cooking basket, and add your burger patties.
Cook for 10 minutes, and carefully turn the burgers at 5 minutes. At 9 minutes, top up the patties with cheese, cook for the remaining 1 minute.
When done, remove the burger patties and build your hamburgers using the split buns, tomato slices, onion slices, mayo and lettuce. Serve your ready air fryer burgers.
Bison Burger in Air Fryer Recipe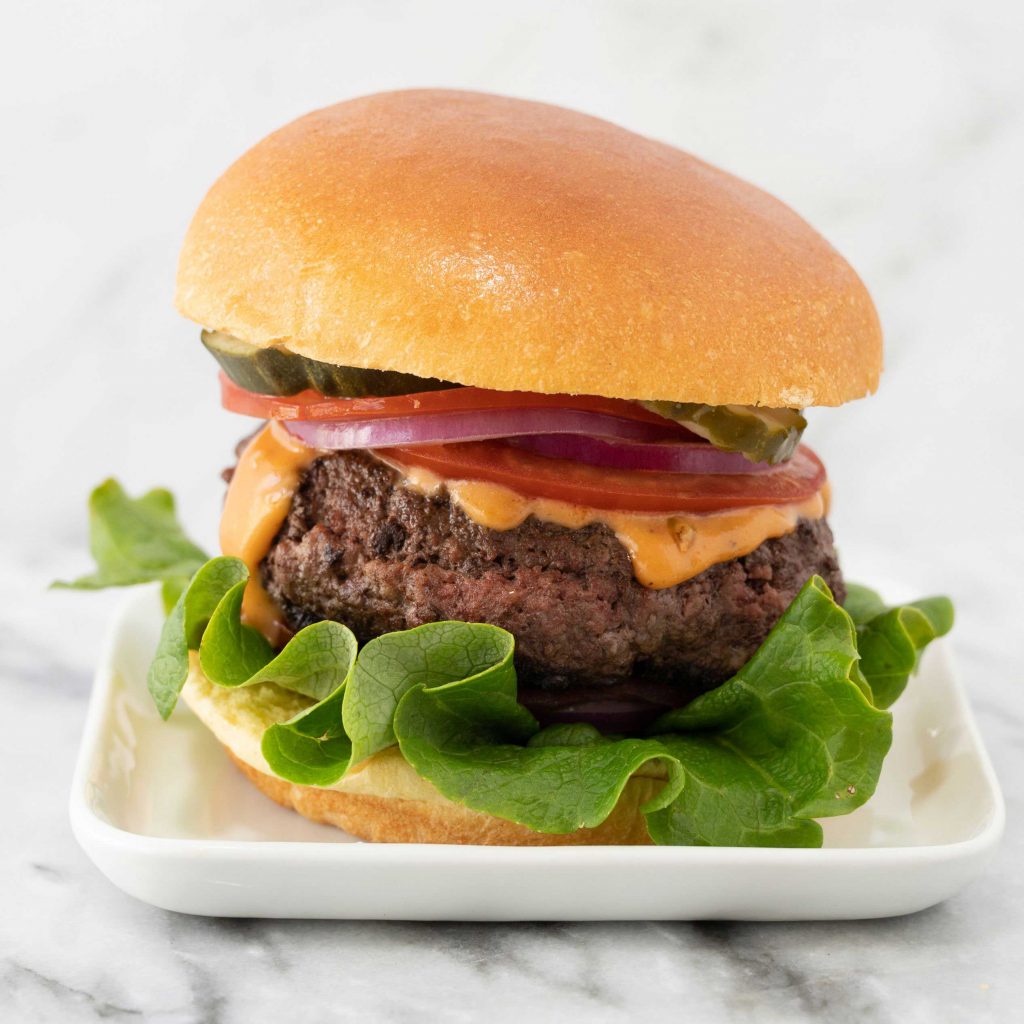 If you want to try something new, you need to try this air fryer bison hamburger recipe. Get ready for a juicy, delicious hamburger!
Prep Time: 5 minutes
Cook Time: 15 minutes
Total Time: 25 minutes
Servings: 4
Estimated Cost: $12 (buns not included)
Ingredients
1 lb ground bison
½ cups chopped onions
Salt and black pepper, to taste
2 tbsp dry bread crumbs
1 tbsp Worcestershire sauce
½ tsp liquid smoke
4 hamburger buns
1 egg, beaten
Instructions
Preheat your air fryer for 3 minutes to 380 degrees Fahrenheit.
In large bowl, combine ground bison with onions, bread crumbs, sauce, egg, salt, black pepper and liquid smoke. Mix thoroughly, then make 4 patties using the resulting mixture.
When the air fryer is already preheated, carefully place the burger patties in to the fryer basket. Cook for 8 minutes, turn the patties, cook for additional 7-8 minutes. If cooked as you desire, place each patty on a split bun and enjoy.
Recipe Notes:
Cook the burgers in batches. But if your air fryer can handle them all at once, well and good.
Final Words
With your air fryer, you can cook hamburgers using different recipes. Use the above air fryer hamburger recipes to make your hamburgers, and you will realize how delicious, juicy hamburgers taste. All the best!