This mahi mahi recipe in the air fryer is mouthwateringly rich in taste, wonderfully cooked, and aesthetically presented; it is the ideal recipe for a dinner that is both nourishing and invigorating! In addition to that, it can be whipped up in a hurry, it is quite simple to create, and it requires only a few standard ingredients. You're in for a real treat if you've never tried cooking this recipe before.
The Most Delicious Mahi Mahi Air Fryer Recipe
Following preparation in a garlicky, flavorful butter, the mahi mahi is finished in an air fryer, which browns and crisps the exterior of the fish while retaining the softness and flakiness of the inside. Although I am aware that this is not a meal that is often prepared using an air fryer, it is, without a doubt, remarkable.
Even if you aren't a great lover of fish or if you've never tried it before, this meal is the ideal place to start experimenting with fish as part of your diet because it contains a variety of different kinds of fish.
Because mahi mahi has a taste that isn't overbearing and is just moderately sweet, it really absorbs the flavor of the wonderful garlic butter seasoning that is sprinkled on it. This makes mahi mahi one of the best fishes for making use of this technique.
In addition, the preparation of this meal takes fewer than twenty minutes and involves very little labor, which is maybe the most attractive feature of this recipe. Along the same lines as some of our other recipes that call for the air fryer, such as this catfish that was cooked in the air fryer.
In addition, while the fish is cooking, you can create a full healthy supper by making this Instant Pot Sushi Rice or this Low Carb Coleslaw to complement the fish. Both of these recipes can be found on our website.
Ingredients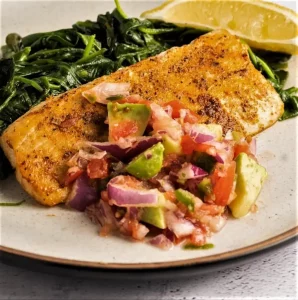 The day before yesterday, I was cleaning out my refrigerator. I was searching for something else at the back of my freezer when all of a sudden, I stumbled upon a discrete package of mahi mahi fish filets. Then I had the idea, why not prepare a nutritious meal for supper tonight?
Now, I'm going to give you a mouthwatering recipe for mahi mahi air fryer that you can make in an air fryer. The ingredients for a mahi mahi meal that may be prepared in an air fryer are listed here. This recipe serves four people.
Mahi Mahi fillets (2)
Olive Oil (1tbsp)
Butter (1 tbsp)
Minced garlic (2 tsp)
Salt to taste
Pepper
Fresh thyme
Fresh lemon
It is incomprehensible how a little amount of fundamental components can provide such a sophisticated taste. And if you appreciate the way that the addition of garlic and butter can elevate the taste of a meal to the next level, then you definitely ought to give this a chance.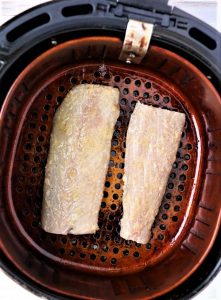 How to Cook The Perfect Mahi Mahi in Air Fryer:
Step 1: of the air fryer recipe for mahi mahi calls for increasing the temperature to 380 degrees Fahrenheit for a period of five minutes.
Step 2: Using a paper towel, pat the filets until they are completely dry.
Step 3: When you are ready to start cooking, place the fish filets in a dish and season them with the fajita spice. Make sure that the fish is coated on both sides before serving.
Before beginning to cook food in the fryer, proceed to step 4 and spray the inside with cooking spray that is designed to prevent food from sticking. If you want exceptional results, give the cooking spray made with avocado oil a try.
Step 5: Preheat the air fryer to 380 degrees Fahrenheit, and cook the filets for 10 to 12 minutes, depending on their thickness. It is vital to flip the food over halfway during the cooking period. The fish filets have to be adequately separated from one another in this situation.
Step 6: Once the cooking process is complete, the fish will be readily able to be flaked with a fork. In addition to this, the fish will have a golden color to their body.
Step 7: Melt the butter in a small saucepan setting over a low heat. Cook the butter until it reaches a simmering stage, which should take between three and five minutes. It will become frothy, and the hue will be a deep brown. Now is the time to turn off the heat.
Step 8: Sprinkle the fish filets with the brown butter just before serving.
Step 9: Add lime juice that has been freshly squeezed from a lime. Lemon slices may be used as a garnish if desired.
How To Store Leftover Mahi Mahi Air Fryer Recipe
You can prepare any number of fish fillets you like, despite the reality that guidelines only require two to be made. If you are planning serving this dish to a huge amount of guests at dinner, make sure you purchase several more fillets. Also, ensure that you add butter garlic, thyme, and butter to the dish.
If you happen to have leftovers, keep them in a storage container which is sealed up to 3 or 4 days in the space of your refrigerator that's the coolest. If there aren't leftovers, then you can do this step without a problem.
You can heat the filets by placing them inside the oven fryer, securing it with foil covered with aluminum and turning the temperature to 275 degrees Fahrenheit and then letting them remain in the fryer for 5 to 10 minutes or until they attain the level of heat you prefer.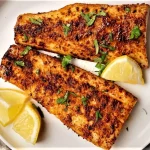 How Long Do You Need to Cook Mahi Mahi?
If Mahi Mahi's internal temperature exceeds an average of 137 degrees Fahrenheit (58 degree Celsius) then the fish is ready to serve.
However, the method I have found to be the most efficient is to remove this fish off the grill at the point that its internal temperature rises to about 137°F, and allowing it to cook until it has reached a temperature of 137 degrees Fahrenheit when it's resting. If you follow this method, you'll never overcook the fish as you'll prevent yourself from making the mistake of.
Mahi Mahi Air Fryer Recipe Nutrition Facts
The mahi mahi fish, also known by the name of mahi mahi was named in reference to its Polynesian phrase mahi mahi which could be translated to mean "strong." It refers to the enormous dimensions of this fish, as well as its capacity to reproduce that is what the term refers to. Everyone in the family enjoys the meal that is hearty and delicious and it always manages to satisfy their cravings.
There are the following components in one three-ounce serving of mahi mahi:
| | |
| --- | --- |
| Nutrients | Daily Value (%) |
| Cholesterol (100 milligrams) | 50 |
| Selenium (39.8 micrograms) | 57 |
| Niacin (6.3 milligrams) | 32 |
| Vitamin B6 (0.4 milligrams) | 20 |
| Vitamin B12 (0.6 micrograms) | 10 |
| Phosphorus (156 milligrams) | 16 |
| Potassium (453 milligrams) | 13 |
| Magnesium (32.3 milligrams) | 8 |
| Sodium (180 milligrams) | 16 |
| Pantothenic acid (0.7 milligrams) | 7 |
| Iron (1.2 milligrams) | 7 |