There is so much you can do with your air fryer. Besides cooking healthier meats, the device is also good for vegetarians. You can use the appliance to cook different vegetarian meals. However, you need to learn or use the right recipes for best results. To help you cook healthy meals for vegans, here are vegetarian air fryer recipes you should use in your cooking.
Air Fryer Buttermilk Mushrooms Recipe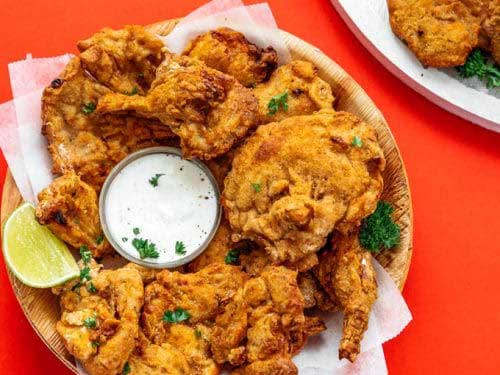 If you have never tasted mushrooms tasting just like fried chicken, this recipe is for you. Try it and you will like it.
Prep Time: 5 minutes
Cook Time: 15 minutes
Total Time: 20 minutes
Servings: 2
Estimated Cost: $6
Ingredients
2 cups of oyster mushrooms
1 cup of buttermilk (vegan substitute)
1 cup of all-purpose flour
1 tsp salt
1 tsp garlic powder
1 tsp onion powder
1 tsp smoked paprika
1 tsp cumin
2 tbsp vegetable oil
Instructions
Clean the mushrooms and add them to a large bowl with buttermilk, Toss and let marinate for at least 15 minutes.
Preheat your air fryer to 375 degrees Fahrenheit.
In a separate mixing bowl, mix the salt, garlic powder, onion powder, cumin, paprika and the flour. Remove the mushrooms from the buttermilk and dip in the flour mixture, coat them with the mixture. Shake off excess flour mixture. Dip again in buttermilk, then in the flour mixture.
When the air fryer is ready, place the mushrooms in to the air fryer basket. Set time to 15 minutes, and start cooking. At 5 minutes, pause the fryer to sprinkle the vegetable oil over the mushrooms, and stir to coat. At 10 minutes, pause again, flip or stir the mushrooms. Cook for the last 5 minutes, your mushrooms will be crispy, golden brown and ready.
Remove and serve.
Recipe Notes:
Make vegan buttermilk by mixing 1.5 cups of soy milk with 1.5 tablespoons of lemon juice.
Don't overcrowd the mushrooms in the frying basket.
Read also: Weight Watchers Air Fryer Recipes
Air Fryer Parmesan Brussel Sprouts Recipe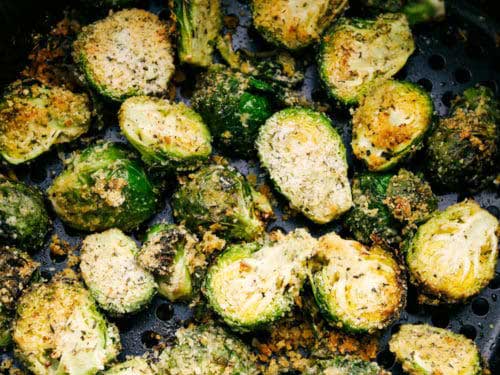 For a quick, easy side dish, this is one of the best air fryer vegetarian recipes. Use it to make crispy, tasty Brussels sprouts.
Prep Time: 7 minutes
Cook Time: 12 minutes
Total Time: 19 minutes
Servings: 4 people
Estimated Cost: $5
Ingredients
1 lb Brussel sprouts (ends trimmed, outer leaves cut, and cut lengthwise in half)
½ tsp garlic powder
¼ ground black pepper
¼ tsp salt
¼ cup grated parmesan cheese
2 tbsp olive oil
Instructions
Combine the prepared Brussel sprouts, salt, garlic powder, pepper and olive oil in a large mixing bowl. Stir thoroughly.
Place the Brussel sprouts in the frying basket, and set time to 6 minutes and temperature to 400F. Start cooking.
When the timer stops, open and stir your cooking Brussel sprouts. Sprinkle the grated parmesan cheese over the sprouts.
Cook for additional 6 minutes at the same temperature. Check for doneness – they should be crispy tender.
When ready, remove and serve.
Recipe Notes:
If the sprouts are not done after 12 minutes, cook for additional 3-5 minutes. Cook time will vary with the size of the Brussel sprouts, and how you have arranged them in the air fryer.
Don't overload the air fryer basket with the spouts. They wont cook evenly or even crisp up easily.
Read also: Weight Watchers Air Fryer Recipes
Air Fryer Zucchini Chips Recipe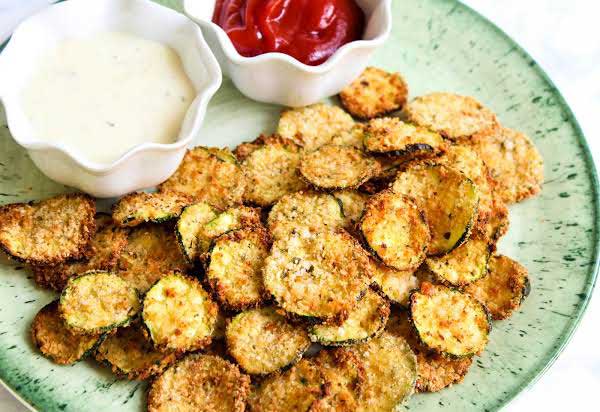 These air fryer zucchini chips will come out Just the way you would like – tasty and crispy! They are healthy, gluten-free and will cook fast.
Prep Time: 8 minutes
Cook Time: 20 minutes
Total Time: 28 minutes
Servings: 4 people
Estimated Cost: $5
Ingredients
2 zucchinis (sliced into rounds)
½ cup whole wheat panko bread crumbs
1tsp Italian seasoning
¼ tsp salt
¼ tsp pepper
½ tsp baking powder
¼ cup of almond flour
1 tbsp nutritional yeast
1tbsp flax meal, ground
¼ cup of water
Instructions
Pat dry the zucchini slices with a paper towel.
Mix ground flax with water and whisk to combine. Let it sit for several minutes to thicken. Transfer this to a shallow plate.
In another bowl, combine almond flour, Italian seasoning, baking powder, pepper, salt, nutritional yeast and panko bread crumbs.
Dredge zucchinis slices in flax egg and ensure they are completely coated on both sides. Then transfer to the breadcrumb mixture, and coat on both sides.
Arrange in air fryer basket in a single layer, and cook for 10 minutes at 375 degrees Fahrenheit. Flip the slices at 5 minutes. Repeat this with other remaining slices, until all slices are baked.
Serve and enjoy with your family members
Recipe Notes:
If your air fryer can't handle all the zucchini slices at once, cook in two batches (10 minutes each).
Prepare the zucchini chips in batches, when one batch is cooking, be preparing the next.
Final Words
Vegetarians not only care of what they take, but also how it is prepared. An air fryer, will help you cook what you desire as a vegetarian. Try the above vegetarian air fryer recipes, and you will definitely include them in your diet plan. They are easy to make, and will only take a few minutes to get ready.