An air fryer has become a very popular kitchen appliance in recent years. Why? It's a cooking appliance that is cooking healthier meals as it uses little or no oil to cook. Also the cooking appliance can be used to cook a wide range of dishes ranging from veggies, meat to fries. If you have just bought your air fryer, you just need a few cooking tips and you'll be ready to go. For an easy time, try the following air fryer recipes for beginners.
Easy Air Fryer Recipes for Beginners
You can use the air fryer to cook a wide range of dishes. You can use the appliance to cook French fries, chicken breast, salmon fillet, among other delicious meals. Try the following easy air fryer recipes for beginners.
Air Fryer Keto Low Carb Fried Chicken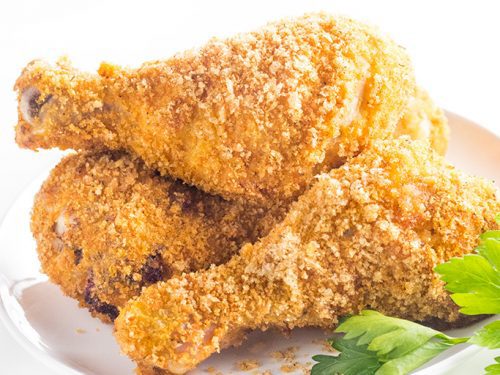 It'll be easy to make a crispy chicken in just a few minutes. Check out this recipe.
Prep Time: 12 minutes
Cook Time: 20 minutes
Total Time: 32 minutes
Servings: 6
Calories: 273 kcal
Ingredients
2 ½ lbs drumsticks
½ salt
¼ black pepper
¼ wholesome yum coconut flour
2 eggs (large)
1 cup pork rinds
1 teaspoon paprika ½ teaspoon garlic powder
Procedure
In a small bowl, stir the flour, pepper and salt, and set aside.
In another bowl, beat and whisk the eggs, and set aside.
In another shallow bowl, combine the crushed pork rinds, garlic powder, and paprika.
Drench the chicken pieces in the flour mixture, dip into the eggs and then rub into the pork rind mixture. Remember to shake off the excess flour and pork rind mixture.
As you are preparing the chicken, preheat the air fryer to 400 degrees F for 5 minutes. Spray the frying basket with oil. Then place the breaded chicken pieces on the basket in a single layer. Ensure they are not touching each other.
Place the basket in the air fryer and cook for at least 20 minutes or until when the internal temperature of the pieces reaches 165 degrees F.
Read also: Cosori Air Fryer recipes
Cajun Air Fryer Salmon
For a tasty and healthier salmon, an air fryer can be of great help. Try this air fryer recipe for beginners to make a moist, delicious salmon.
Prep Time: 10 minutes
Cook Time: 10 minutes
Servings: 2
Calories: 327 calories per serving
Ingredients
2 skin-on salmon fillets
1 tbsp Cajun seasoning
1 tsp brown sugar
Cooking spray or vegetable oil
Procedure
Rinse and pat dry the salmon fillets using a paper towel. Spray the fillets with cooking oil or cooking spray.
Preheat the air fryer to 200 degrees C for 3-5 minutes
Combine Cajun seasoning with the sugar in bowl, and sprinkle the seasoning mixture over the fish fillets (both sides).
Spray the frying basket with vegetable oil and place the fillets on the basket. Spray vegetable oil over the fillets lightly and cook for 10 minutes. To ensure the fillets cook evenly, turn the fillets at 4 minutes. When done, let the pieces rest for 2 minutes before slicing or serving.
Top 5 Best Air Fryer Recipes Book
The discussed recipes may not be enough to help you prepare more dishes using your new air fryer. However, you can acquire one of the best air fryer cookbooks for beginners. Good House Keeping Air Fryer Cookbook, The Essential Air Fryer Cookbook for Beginners, Party in an Air Fryer by Delish, among others are the best cookbooks you can use to make healthier meals using your air fryer. For other best cookbooks, read more about top 5 best air fryer recipes book, and you will know trusted cookbooks you can rely on.
Final Words
Yes, an air fryer can cook crunchy and delicious meals for you. The good thing about the device is that it can cook different dishes such French fries, zucchini fries, salmon fillets, chicken drumsticks, and more. Try the above air fryer recipes for beginners and look for more, and you will have an easy time in the kitchen when using your air fryer.