The air fryer has become a popular cooking device in the recent past. The cooking appliance uses little or no oil when cooking, is less messy, and easy to operate. In addition, it makes healthier foods compared to deep fryers. Therefore, you need to get this appliance, that is if you don't have it already. To help you make delicious, healthier meals in the air fryer, here are Cosori air fryer recipes to guide you.
Cosori Air Fryer Pork Chops Recipe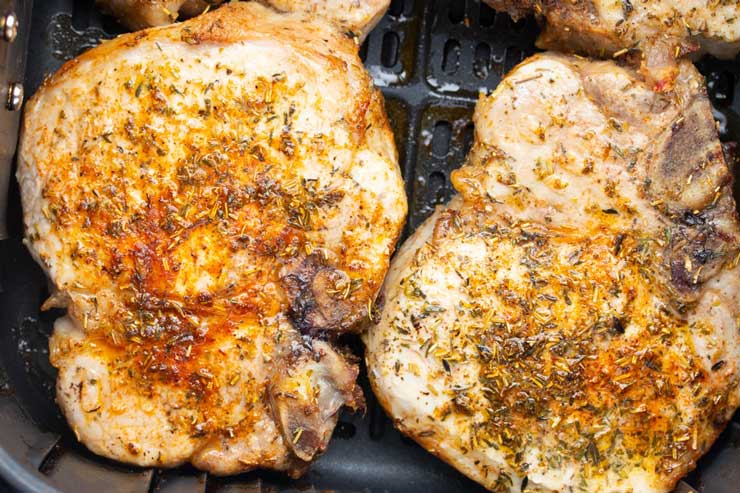 Juicy, tender and tasty air fryer pork chops. You will definitely love this!
Prep Time: 4 minutes
Cook Time: 12 minutes
Total Time: 16 minutes
Ingredients
2 center-cut, bone-in pork chops (1.5 to 2 inches thick)
1 tbsp paprika
1.5 tsp salt
1 tsp mustard (ground)
½ tsp onion powder
3 tbsp olive oil
2 tbsp brown sugar
1 tsp black pepper
Instructions
Rinse the pork chops with cold clean water. Then, using a paper towel, pat dry the chops.
In a small mixing bowl, combine together all the other ingredients, except olive oil and pork chops.
At this time, preheat the air fryer for 5 minutes, to 400 degrees F.
Brush the pork chops with olive oil and rub in the seasoning mixture. Rub well to ensure most parts of the pork chops are covered by the rub mix.
If the air fryer is already preheated, put the pork chops in the air fryer basket, cook for 12 minutes at 400F. At halfway (6 minutes), flip the pork chops to ensure both sides are evenly cooked.
When done, remove and place in a cutting board. Slice and enjoy.
Read also: Cuisinart Air Fryer Recipes
Air Fryer Crispy Chickpeas Recipe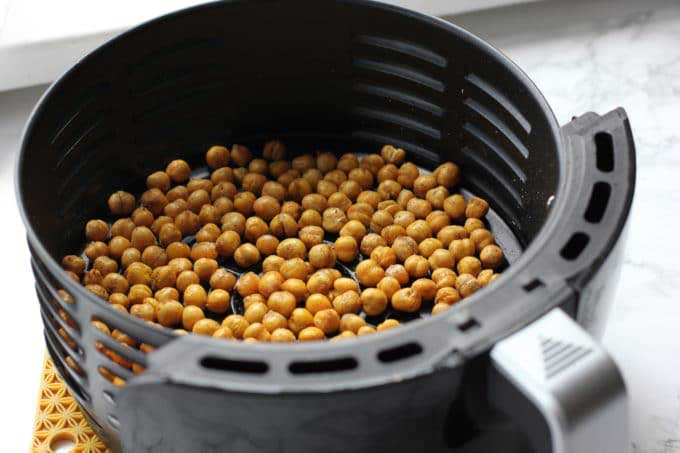 Crispy and crunchy chickpeas is what you want. Right? Then use this air fryer chickpeas recipe; quick and easy!
Prep Time: 5 minutes
Cook Time: 24 minutes
Total Time: 29 minutes
Ingredients
1 15-ounce can of garbanzo beans (drained)
½ tsp salt
½ tsp chili powder
½ ground dry mustard
½ paprika (smoked)
½ tsp garlic powder
Olive oil or non-stick spray.
Instructions
Rinse and drain the can of garbanzo beans.
Put the chickpeas over paper towel, and let them air dry.
Then mix the seasoning ingredients in a small bowl.
Preheat the air fryer to 390 degrees F for 3 minutes.
Place the chickpeas in the air fryer basket and spread them evenly. Set the cooking temperature to 390 degrees F and time to 24 minutes.
Start cooking and first cook for 5 minutes. Pause and spray olive oil over the chickpeas. Then shake the basket and return the basket.
Air fry for additional 8 minutes, and slowly sprinkle the 1 tablespoon of seasoning spices over the chickpeas. Shake the air fryer basket to coat. Cook for additional 5 minutes, shake again and sprinkle another tablespoon of seasoning over the chickpeas and toss again. Cook for the remaining 6 minutes, and your chickpeas will be crispy and crunchy.
Remove the chickpeas, sprinkle with the remaining seasoning. Stir or toss to combine. Then serve immediately.
Cosori Air Fryer Chicken Wings Recipe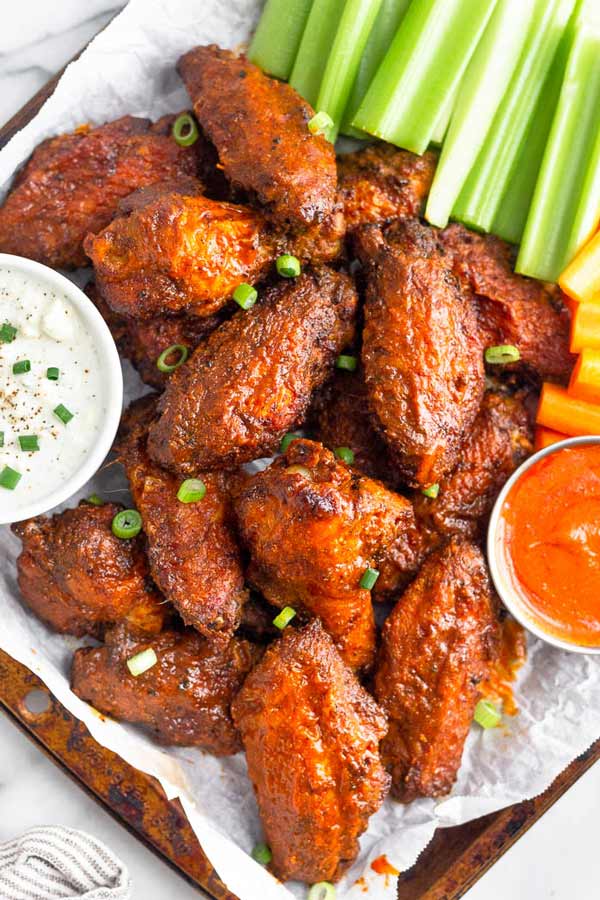 These air fryer chicken wings are healthy, delicious and easy to make. Follow the recipe, and you will like the final product.
Prep Time: 8 minutes
Cook Time: 20 minutes
Total Time: 28 minutes
Ingredients
2 lbs of chicken wings (split and tips removed)
½ teaspoon of ground black pepper
½ teaspoon of seasoning of choice
¼ teaspoon of salt
1.5 tablespoons flour
2 teaspoons of olive oil
2 teaspoons of baking powder
Instructions
Dry the wings using a paper towel. Mix flour, baking powder, salt, seasoning, and pepper in bowl. Put the wings on the bowl, and toss to coat.
Preheat the Cosori Air Fryer to 400 degrees F.
When preheated, place the wings in the air fryer basket, in a single layer, don't overlap them.
Cook the chicken wings for 20 minutes. Remember to shake, rearrange or flip the wings after every 6 minutes.
Recipe Notes
Shake off the excess flour mixture to allow the wings to crisp better.
You can cook for additional minutes, when you realize the wings are not ready as they should be.
Final Words
With your air fryer, you can enjoy a wide range of healthy meals. The air fryer cooks food using no or little oil, and in most cases, won't compromise the taste of the food. Try these Cosori air fryer recipes, and you will realize how tasty and delicious air fried foods can be. All the best!