Toffee is a perfect gift option to the people you love and care for. You don't have to buy tasty toffee all the time at the restaurant. You should learn the secrets of preparing it at home with readily available ingredients. To help you out, try out this better than anything toffee recipe, and you will love it.
Best Toffee Recipe Ever!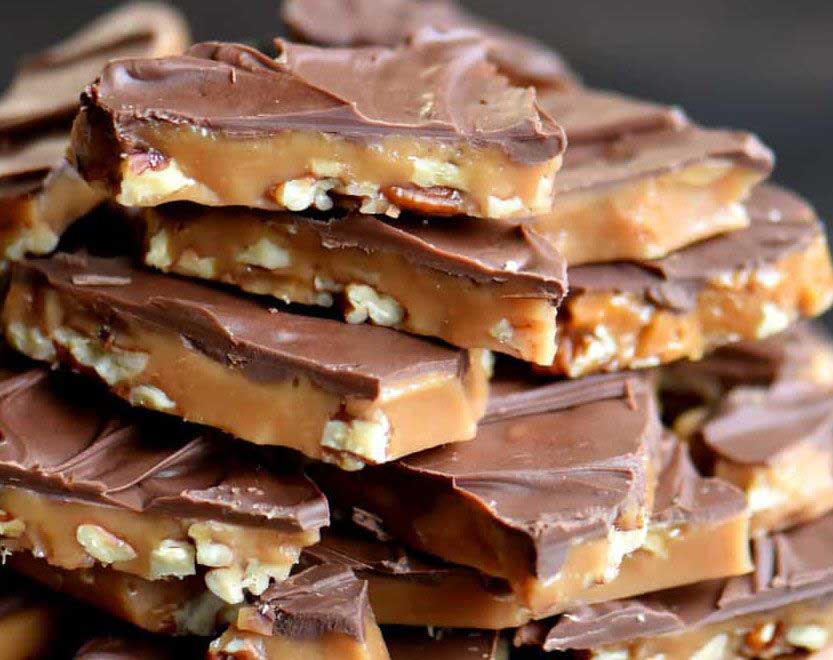 This better than anything toffee recipe will ensure you make a perfect treat with sweet milk chocolate. Follow the recipe and you'll love the results.
Prep Time: 5 minutes
Cook Time: 20 minutes
Total Time: 25 minutes
Servings: 22 -25 servings
Ingredients
1 cup unsalted butter
1 cup pecans (coarsely chopped)
1 cup sugar (granulated)
1 cup milk chocolate chips
1 teaspoon vanilla extract
½ teaspoon kosher salt
Procedure
Spray or oil a 9" square baking dish with cooking oil. Line with a parchment paper.
Spread the pecans on the parchment (in a single layer).
On a pot, add sugar, butter and salt. Heat over medium heat until the mixture boils. Ensure you stir frequently until all the sugar dissolves. Boil while stirring until the candy temperature reaches 290F. Use a candy thermometer. Once the temperature is reached, remove from heat, and stir in your vanilla extract.
Pour the candy mixture over the pecans in the baking dish. Let the mixture sit for 1 minute and sprinkle chocolate over the top. Cover with foil and let it rest until the chocolate is softened or for at least 5 minutes.
Remove the foil and spread the chocolate using an offset spatula.
Place your candy in a refrigerator and let it cool for at least 2 hours. Once cooled completely, remove from the refrigerator and lift the parchment from the dish, and place your candy on a cutting board.
Use a knife cut the toffee into smaller pieces.
Final Words
When you use the above recipe for better than anything toffee, you will make the best toffee ever. Everybody who will take the toffee will appreciate and ask you for the better than anything toffee recipe you used.