An air fryer is one of the leading cooking devices you can use to make healthier meals today. The device cooks using little or no oil, and won't compromise on taste and texture of your food. However, you need to pick the right air fryer for best results. NuWave Air Fryer is one of the best air fryers you can get. You can use the device to cook a wide range of foods. Continue reading, to know how to use NuWave air fryer to cook chicken breasts, among other foods.
Air Fryer Chicken Breasts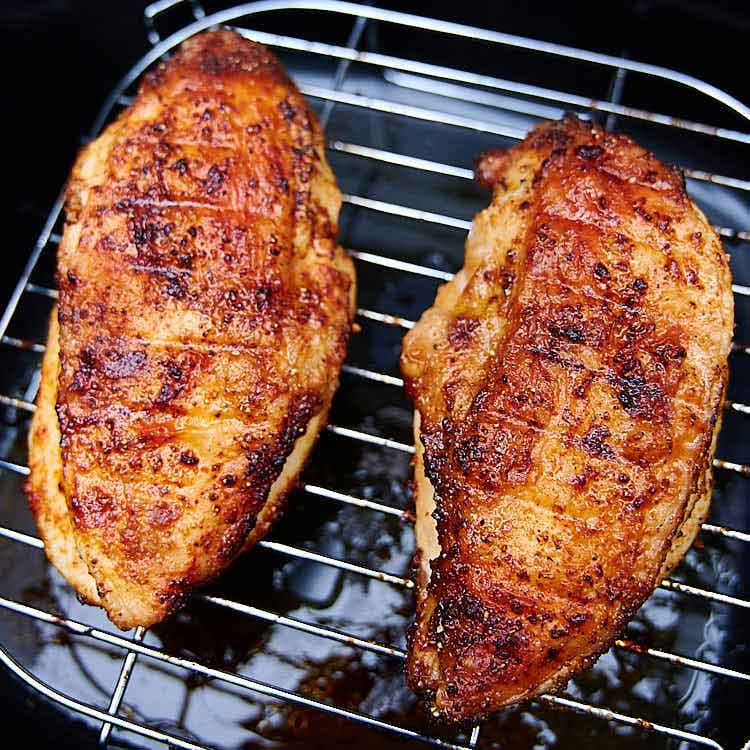 With your NuWave air fryer, you can cook delicious, juicy chicken breasts in minutes. For the right results, here is the recipe.
Prep Time: 3 minutes
Cook Time: 20 minutes
Total Time: 23 minutes
Ingredients
2-4 chicken breasts
2 tablespoons of olive oil
¼ tablespoon of salt (per breast)
¼ tablespoon of pepper (per breast)
¼ tablespoon of garlic powder (per breast)
Procedure
Sprinkle the olive oil over the chicken breast, and brush
Sprinkle salt, garlic powder and pepper on one side.
Get your NuWave air fryer basket, place the breast on the basket with seasoned side down. After that, season the other side.
Return the air fryer basket to the air fryer, set the temperature at 360 degrees F, for 10 minutes.
After the 10 minutes, flip the chicken breast, and cook for another 10 minutes.
Open the air fryer, get the breast and check if they are ready using an instant read thermometer. If the internal temperature of the breast is between 158 degrees and 160 degrees, the meat is ready. If the temperature is below that, return it to the air fryer and let it cook in the residual heat for 5 more minutes.
When done, place it on plate, cover with foil, and let it rest for five minutes.
Serve your meal
Read also: Healthier Instant Pot Air Fryer Recipes
Air Fryer Chicken Breast with No Breading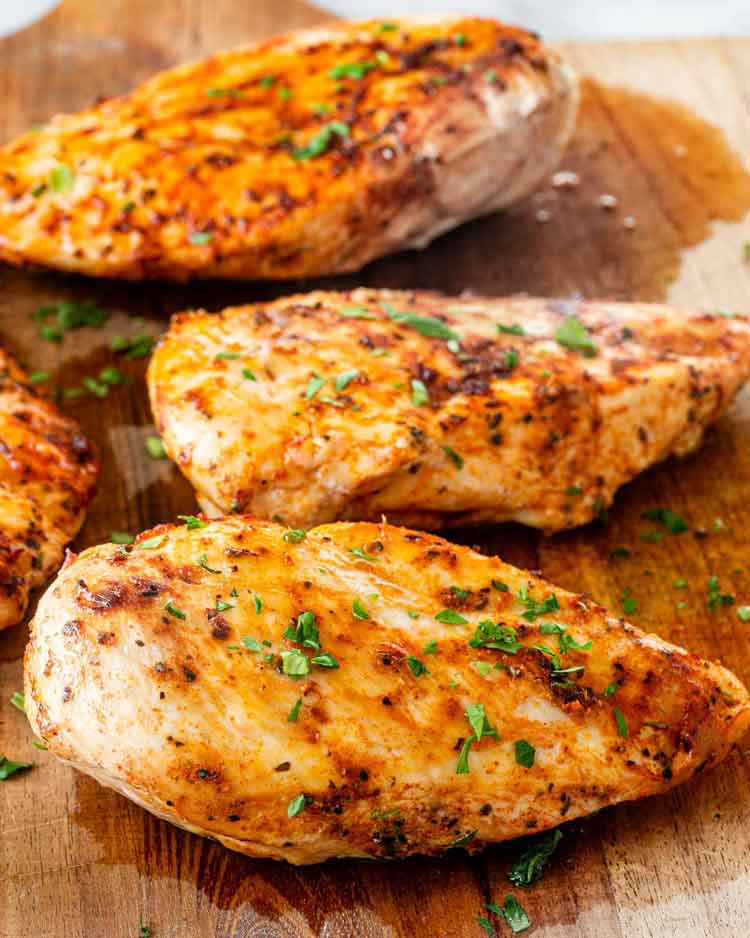 Tender and juicy chicken breasts cooked to perfection in your NuWave air fryer. Here is how to use NuWave Duet Air Fryer to cook tender, juicy chicken breasts with no breading.
Prep Time: 5 min
Cook Time 18 min
Total Time: 23 min
Yield: 2 chicken breasts
Category: Dinner
Ingredients
2 boneless chicken breasts
2 tsp olive oil
3 tsp balsamic vinegar
1 tsp lemon juice
2 tsp brown sugar
½ tsp garlic powder
1tsp rosemary (crushed)
1.5 tsp black pepper
1 tsp salt
½ tsp onion powder
2 tsp soy sauce
Instructions
Mix all the ingredients, except the chicken breasts, in a mixing bowl or baking dish.
Add chicken and coat well. Marinate for at least half an hour, but the longer the better.
Preheat your NuWave air fryer to 360 degrees F for 5 minutes.
Put the chicken breasts in the air fryer basket, and cook for 18 minutes at 360 degrees Fahrenheit. BUT flip the chicken breasts half way or at 10 minutes.
When time is up, remove the chicken breasts, and place them on a plate to rest for 5 minutes. Then slice and serve.
Air Flyer Crispy Chicken Wings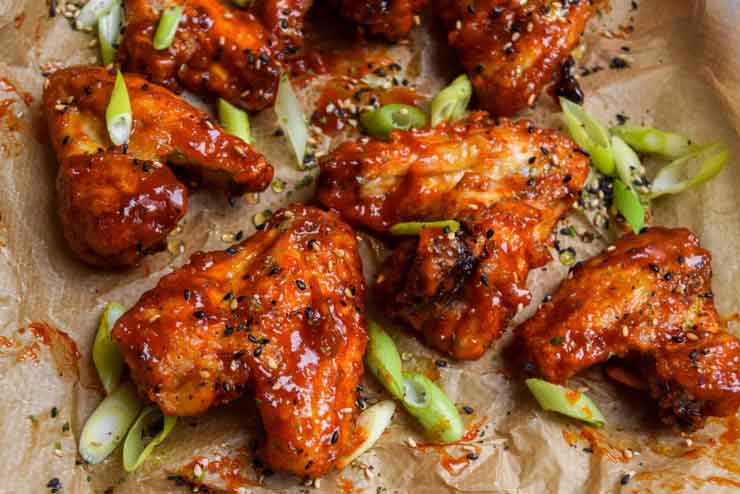 Prep Time: 5 minutes
Cook Time: 16 minutes
Total Time: 21 minutes
Crispy air fryer chicken wings with a hint of garlic and lemon pepper. Seasoned the way you like, and cook so fast. Here is how to use NuWave Brio Air Fryer to cook crispy, juicy chicken wings.
Ingredients
1 lb chicken wings – split in to drummettes and flats
1 tablespoon olive oil
2 tablespoons of garlic salt
1 tablespoon of lemon pepper
Instructions
Place the chicken wings in a mixing bowl, coat with olive oil, and then sprinkle garlic salt and lemon pepper. Toss to evenly coat the wings with seasoning.
Place the wings on the air fryer basket (space evenly) and air fry for 8 minutes at 400 degrees F. Flip the pieces, and cook for another 8 minutes at the same temperature. By the end, the wings will be crispy and golden brown on the outside.
If ready, remove the wings and place them on a plate to rest for 5 minutes before serving. If not ready, cook for more than 3-5 minutes.
Final Words
It's your time to cook almost everything using your NuWave air fryer. The air fryer is easy to use, and will not disappoint you at any time. You now know how to use Nuwave air fryer to cook chicken wings and chicken breasts. Therefore, get your NuWave air fryer, and you will make healthy, delicious chicken breasts, and more in minutes.