An air fryer is the device you need to make foods free of unhealthy fats. In addition to that, the cooking appliance cooks tasty, crunchy meals in minutes. Therefore, if you want a quick, easy breakfast, lunch or dinner, you can use your Gourmia Air Fryer. Believe it or not, you can use your air fryer to cook almost everything, ranging from Brussel sprouts to sweet potato chips. Want to make healthy meals in your air fryer? Here are Gourmia air fryer recipes to help you.
Gourmia Air Fryer French Fries Recipe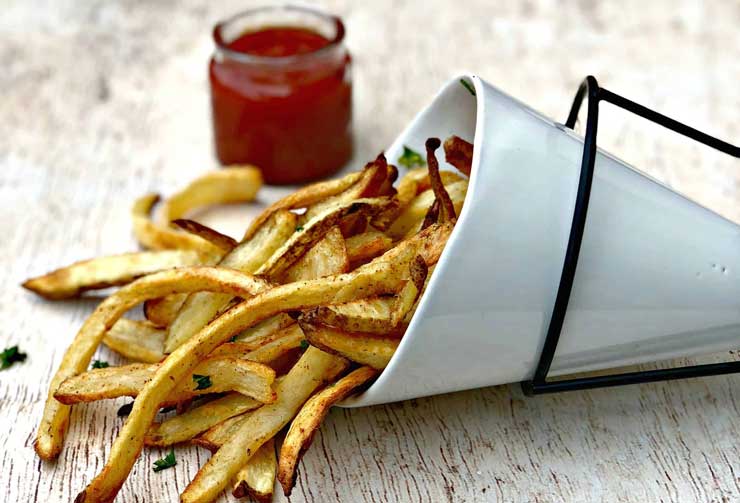 Delicious, crispy air fryer French fries made without all the greasy unhealthy oils! No doubt, this is what you are craving for.
Prep Time: 5 minutes
Cook Time: 17 minutes
Total Time: 22 Minutes
Servings: 4 servings
Ingredients
4 peeled potatoes
1 tablespoon olive oil
½ tsp salt
½ tsp garlic powder
½ tsp freshly ground black pepper, if you like
Instructions
Slice the potatoes into French fries – 1/4" size is good
Soak the potato slices in water for at least 25 minutes to remove excess starch.
Pat dry the fries with a paper towel, and put them in a bowl. Sprinkle the oil over the fries and mix or toss to coat. Then mix the salt, black pepper and garlic powder in separate bowl, and sprinkle the mixture over the French fries, and toss.
Preheat your air fryer to 400 degrees F. Add the French fries in to the air fryer basket, cook for 17 minutes at 400 degrees. Pause at 7 minutes, to shake the frying basket, and at 15 minutes to check doneness and shake again.
After 17 minutes, remove and serve with your favorite sauce.
Recipe Notes:
Shaking ensures the French fries cook evenly.
Soaking removes excess starch, which makes the fries to crisp up.
Don't overcrowd the frying basket as that will affect hot air circulation. If you overcrowd, your fried will not cook evenly.
Read also: Gowise Air Fryer Recipes
Gourmia Air Fryer Chicken Recipe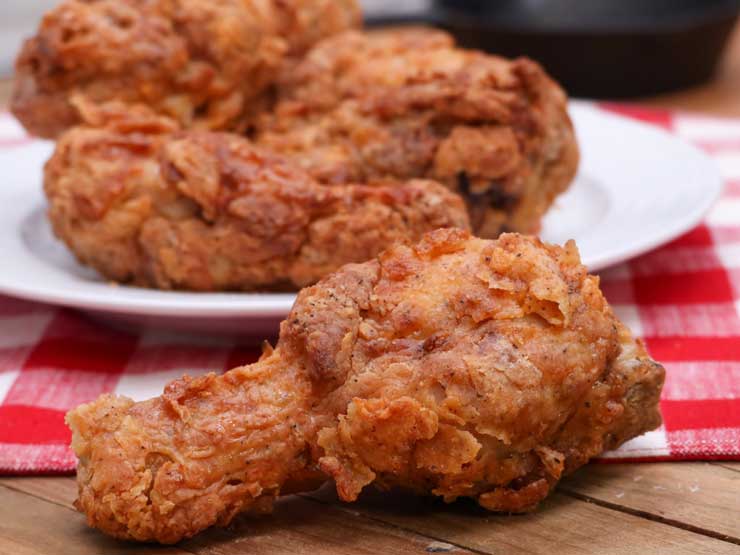 You can now enjoy delicious chicken wings again without guilt. Try this as it is one of the best Gourmia Digital air fryer recipes.
Prep Time: 5 minutes
Cook Time: 30 minutes
Total Time: 35 minutes
Servings: 4 people
Estimated Cost: $5
Ingredients
2 pounds of split chicken wings (tips removed)
½ garlic powder
½ teaspoon salt
1 tablespoon vegetable oil
½ cup Buffalo wing sauce
Instructions
Place the split chicken wings (drumettes and wingettes) in a bowl. Spray vegetable oil over the chicken wings and toss. Sprinkle salt and toss to coat.
Preheat the air fryer to 380 degrees. When preheating is done, place the chicken wings in the air fryer basket (don't overlap them, you can cook in batches).
Cook for 25 minutes at 380 degrees, and for the remaining 5 minutes, cook at 400 degrees F. For the 25 minutes, flip the chicken wings once to allow both sides to cook well.
When time is up, remove and serve with the buffalo wing sauce.
Best Air Fryer Bacon Recipe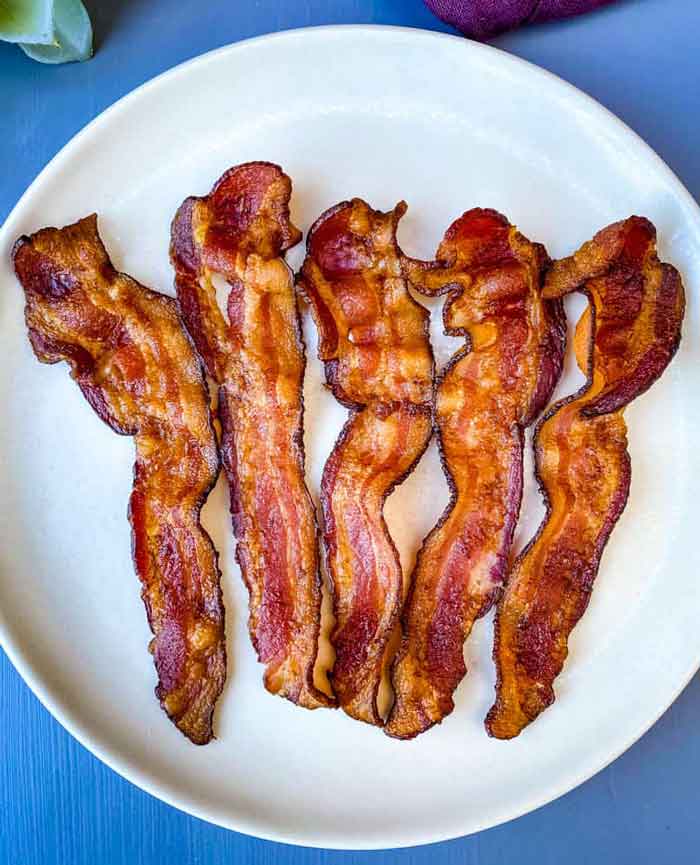 For crispiest bacons, your air fryer is the go to cooking appliance. Try this air fryer bacon recipe for the best bacon ever!
Prep Time: 5 minutes
Cook Time 12 minutes
Total Time: 17 minutes
Servings: 4 people
Estimated Cost: $6
Ingredients
12 slices of bacon
1 tablespoon olive oil
½ teaspoon salt
Instructions
Lay the bacon slices on a cutting board. Sprinkle olive oil and salt on both sides.
Preheat your Gourmia air fryer for 3 minutes to 400 degrees F. Place the bacon slices into the fryer basket in a single layer. Cook for 12 minutes. Flip the slices using tongs at 6 minutes.
When done, serve and enjoy!
Recipe Notes:
Don't overlap the slices. Cook in batches if your air fryer basket can't handle them all.
Final Words
For a healthy lifestyle, taking healthy meals is not an option, but a must. The above Gourmia air fryer recipes will help you prepare heathy meals in minutes. The meals will be free of unhealthy grease, and you will definitely like them. Try the recipes, and you will realize the difference.