Cooking healthier foods is necessary nowadays. There are so many lifestyle diseases associated with unhealthy fats, and you can avoid them by using the air fryer cook most of your meals. With an air fryer, you can make food using no oil, and that can help you avoid cholesterol and other related harmful chemicals associated with deep frying. I know you know how to make two or three meals in the air fryer, but you need to learn more. Here are Dash air fryer recipes to help you cook healthier meals using the air fryer.
Air Fryer Chicken Tenders Recipe
If you have never tried air fryer chicken tenders, today is your lucky day. Make juicy chicken tenders fast and easy in your air fryer using this recipe.
Prep Time: 5 minutes
Cook Time: 12 minutes
Total Time: 17 minutes
Servings: 4 people
Estimated Cost: $7
Ingredients
1 lbs chicken tenderloins
½ tsp paprika
½ tsp black pepper
¼ tsp onion powder
¼ tsp garlic powder
½ tsp salt
¼ cup bread crumbs
1 egg
Instructions
First, preheat your air fryer for 5 minutes to 400 degrees Fahrenheit.
In a small bowl, whisk the egg and set it aside. In a larger bowl, combine breadcrumbs, paprika, garlic powder, onion powder, salt and black pepper.
If the chicken tenders are moist and watery, use a paper towel to pat them dry. Dredge the tenders in egg, then rub on the breadcrumb mixture to coat. Make sure all the chicken tenders are well coated by the mixture.
If the air fryer is heated, place the chicken tenderloins in the air fryer basket. Don't overload the basket, lay them in a single layer.
Cook for 12 minutes, and flip the chicken tenders at 6 minutes.
If the tenderloins didn't fit in the air fryer basket at once, cook the next batch until all are done. Then serve and enjoy.
Note:
Cook the chicken tenders in batches. Don't overcrowd the cooking basket. If you overcrowd the cooking basket, the chicken tenders won't cook evenly because hot air in the air fryer won't circulate as expected.
Read also: Emeril Air Fryer Recipes
Air Fryer Hamburger Recipe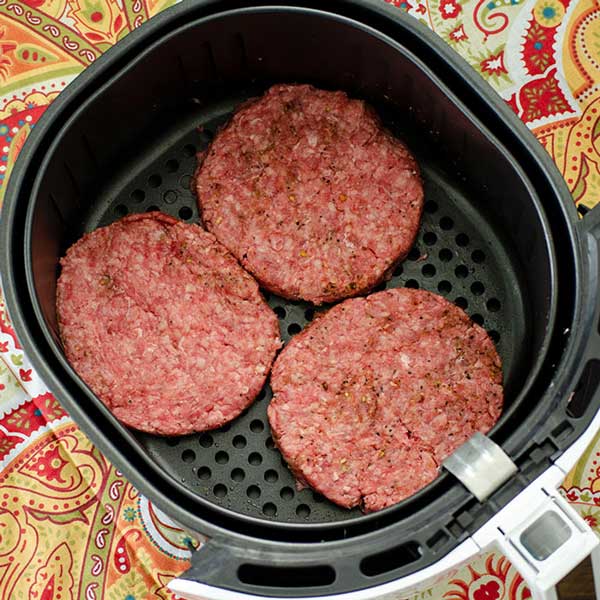 Juicy burgers that can go perfectly well with your favorite toppings. For that reason, on our best Dash compact air fryer recipes, we have included this air fryer hamburger recipe.
Prep Time: 5 minutes
Cook Time: 20 minutes
Total Time: 25 minutes
Servings: 4 servings
Estimated Cost: $7
Ingredients
1 lb ground beef
2 minced cloves garlic
kosher salt
¼ tsp ground black pepper
4 hamburger buns
1tbsp soy sauce (low-sodium)
Sliced onions and tomatoes
lettuce
Mayonnaise
Instructions
Combine ground beef, soy sauce and garlic in a large bowl. Mix thoroughly and shape the mixture into 4 circular patties (4-inch circle not bad). Season the patties with black pepper and salt.
Preheat your air fryer at 375 degrees for 3 minutes. Place two patties in the air fryer, cook for 10 minutes, flip at 5 minutes. When done, remove and top up with a slice cheese immediately.
Repeat the procedure with the other 2 patties.
When all done, spread hamburger buns with mayonnaise, and then top up with the patties, onions, tomatoes and lettuce. Then enjoy your breakfast/snack.
Perfect Air Fryer Salmon Recipe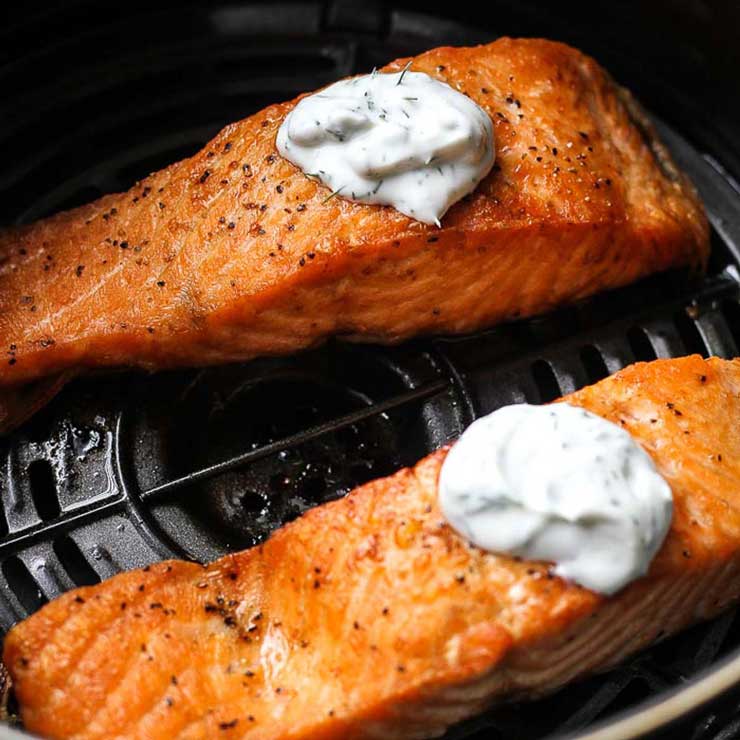 If you haven't tried to cook salmon fillets in your air fryer, this air fryer salmon recipe is for you. Tender and juicy salmon!
Prep Time: 5 minutes
Cook Time: 8 minutes
Total Time: 13 minutes
Servings: 2 people
Estimated Cost: $15
Ingredients
2 wild caught salmon fillets
2 teaspoons olive oil
2 teaspoons paprika
Black pepper and salt, as you like
Lemon wedges
Instructions
Place the fillets on a cutting board or counter, and brush them with olive oil.
Season with salt, black pepper and paprika.
Place the fillets into the air fryer basket, cook at 390 degrees Fahrenheit for 8 minutes. Flip the fillets at 5 minutes. When time is up, use a fork to check doneness. If not done the way you desire, cook for additional minutes until you are satisfied. If ready, serve and enjoy.
Recipe Note:
The cooking time will depend on the thickness and size of the salmon fillets. You can adjust the time until the filets are done.
Final Words
For a healthy lifestyle, you need to use your air fryer to make most of your meals. In addition to what you already know, these Dash air fryer recipes will help you make additional healthier meals easily and fast with your air fryer. Try the recipes, and you will know that air fryer is king when it comes to making delicious and healthy meals.